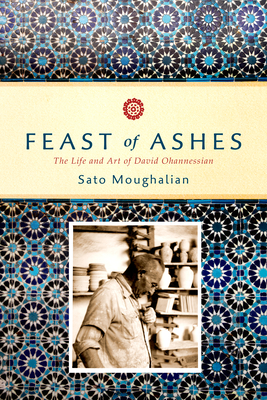 Feast of Ashes
The Life and Art of David Ohannessian
Hardcover

* Individual store prices may vary.
Description
The compelling life story of Armenian ceramicist David Ohannessian, whose work changed the face of Jerusalem--and a granddaughter's search for his legacy.
Along the cobbled streets and golden walls of Jerusalem, brilliantly glazed tiles catch the light and beckon the eye. These colorful wares--known as Armenian ceramics--are iconic features of the Holy City. Silently, these works of ceramic art--art that also graces homes and museums around the world--represent a riveting story of resilience and survival: In the final years of the Ottoman Empire, as hundreds of thousands of Armenians were forcibly marched to their deaths, one man carried the secrets of this age-old art with him into exile toward the Syrian desert.
Feast of Ashes tells the story of David Ohannessian, the renowned ceramicist who in 1919 founded the art of Armenian pottery in Jerusalem, where his work and that of his followers is now celebrated as a local treasure. Ohannessian's life encompassed some of the most tumultuous upheavals of the modern Middle East. Born in an isolated Anatolian mountain village, he witnessed the rise of violent nationalism in the waning years of the Ottoman Empire, endured arrest and deportation in the Armenian Genocide, founded a new ceramics tradition in Jerusalem under the British Mandate, and spent his final years, uprooted, in Cairo and Beirut.
Ohannessian's life story is revealed by his granddaughter Sato Moughalian, weaving together family narratives with newly unearthed archival findings. Witnessing her personal quest for the man she never met, we come to understand a universal story of migration, survival, and hope.
Redwood Press, 9781503601932, 440pp.
Publication Date: April 23, 2019
About the Author
Sato Moughalian is an award-winning flutist in New York City and Artistic Director of Perspectives Ensemble, founded in 1993 to explore and contextualize works of composers and visual artists. Since 2007, Ms. Moughalian has also traveled to Turkey, England, Israel, Palestine, and France to uncover the traces of her grandfather's life and work, has published articles, and gives talks on the genesis of Jerusalem's Armenian ceramic art.
1. Before reading Feast of Ashes, had you heard of the ceramicist David Ohannessian? Were you familiar with the ceramic tile art of Jerusalem?
2. The author relied heavily on her mother's transcriptions of family oral histories to research and write Feast of Ashes. Does your own family have a tradition of sharing stories from older generations, or passing stories on to the next generation?
3. What impact did Tavit's family's move from the remote mountain village of Mouradchai to the city of Eskishehir have on his upbringing? Have you had similar experiences, in which moving to a new place or environment opened up new possibilities for you?
4. How did Tavit's job as an assistant to the largest egg merchant and exporter in Eskishehir broaden his exposure to art and culture?
5. During Tavit's years of ceramics training in the late 19th century, tourists commonly visited ateliers to observe artists at work. Have you ever had the opportunity to watch a master artist (e.g., glassblower, woodworker, or painter) create a piece of art? If so, describe your experience.
6. In spite of the ongoing governmental upheavals across Ottoman lands near the turn of the 19th century, how did restoration programs and the new regime affect architecture and the ceramics industry?
7. Why was Tavit and his family exiled from Kutahya after Tavit made the painful decision to renounce his Christian identity and accept Islam?
8. There are many images of tiles panels and ceramics throughout the book. Which one is your favorite, and why?
9. Throughout Feast of Ashes, how does Tavit utilize his resourcefulness and relentless drive to keep both his family and the Armenian ceramics tradition alive in Jerusalem and beyond?
10. The author conducted extensive research and traveled far to better understand her family's history. Have you conducted any research of your own to learn more about your family's past?