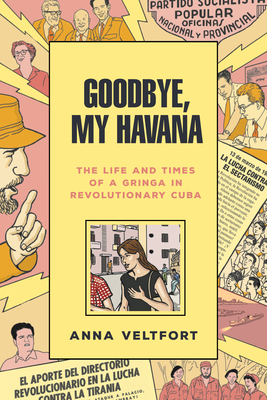 Goodbye, My Havana
The Life and Times of a Gringa in Revolutionary Cuba
Paperback

* Individual store prices may vary.
Description
An eyewitness account of idealism, self-discovery, and loss under one of the twentieth-century's most repressive political regimes
Set against a backdrop of world-changing events during the headiest years of the Cuban Revolution, Goodbye, My Havana follows young Connie Veltfort as her once relatively privileged life among a community of anti-imperialist expatriates turns to progressive disillusionment and heartbreak. The consolidation of Castro's position brings violence, cruelty, and betrayal to Connie's doorstep. And the crackdown that ultimately forces her family and others to flee for their lives includes homosexuals among its targets--Connie's coming-of-age story is one also about the dangers of coming out. Looking back with a mixture of hardheaded clarity and tenderness at her alter ego and a forgotten era, with this gripping graphic memoir Anna Veltfort takes leave of the past even as she brings neglected moments of the Cold War into the present.
Redwood Press, 9781503610491, 240pp.
Publication Date: October 8, 2019
About the Author
Anna Veltfort is a graphic designer and illustrator who lives in New York.
1. How did Ted's political participation influence Connie as a youth in California? Did your parents' political leanings when you were a child impact your political opinions as an adult?
2. What was life like for Connie in Cuba when she and her family first arrived? Do you get the sense that she enjoyed living there?
3. The Bay of Pigs Invasion and the Cuban Missile Crisis were significant events that took place in Cuba while Connie was in high school. Do you remember the big current events that occurred during your youth? Did they directly affect your day-to-day life?
4. Connie's college experience at the University of Havana were enthralling and, some might say, atypical. For example, she and her professors and peers were called on to help with farm labor, she met interesting people  dsuch as Allen Ginsberg, and she interviewed villagers for social research on behalf of the government. What aspect did you find the most fascinating, and why?
5. Life for homosexuals in revolutionary Cuba was very difficult, as many were criminalized or persecuted for their sexual orientation. How did Connie navigate through this hateful environment as a young adult? How did her network of friends help her overcome obstacles?
6. Goodbye, My Havana paints a picture of both the political and social landscape in Cuba during the Cuban Revolution. Did you learn anything new about the revolution that you didn't previously know about?
7. In the epilogue, the author writes, "My love for Cuba, my friends there, for the aching beauty of Havana, never wavered, despite Havana's growing decay and the disillusionment that followed, little by little, in the ensuing years." Do you have previous experiences that are nostalgic for you that you think fondly of, even after many years have passed?