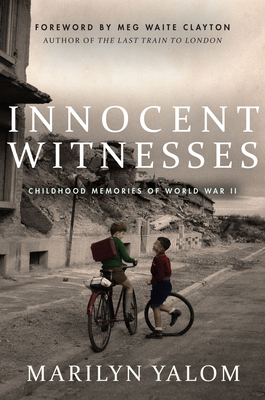 Innocent Witnesses
Childhood Memories of World War II
Hardcover

* Individual store prices may vary.
Description
In a book that will touch hearts and minds, acclaimed cultural historian Marilyn Yalom presents firsthand accounts of six witnesses to war, each offering lasting memories of how childhood trauma transforms lives.
The violence of war leaves indelible marks, and memories last a lifetime for those who experienced this trauma as children. Marilyn Yalom experienced World War II from afar, safely protected in her home in Washington, DC. But over the course of her life, she came to be close friends with many less lucky, who grew up under bombardment across Europe-in France, Germany, Hungary, Czechoslovakia, England, Finland, Sweden, Norway, and Holland. With Innocent Witnesses, Yalom collects the stories from these accomplished luminaries and brings us voices of a vanishing generation, the last to remember World War II.
Memory is notoriously fickle: it forgets most of the past, holds on to bits and pieces, and colors the truth according to unconscious wishes. But in the circle of safety Marilyn Yalom created for her friends, childhood memories return in all their startling vividness. This powerful collage of testimonies offers us a greater understanding of what it is to be human, not just then but also today. With this book, her final and most personal work of cultural history, Yalom considers the lasting impact of such young experiences-and asks whether we will now force a new generation of children to spend their lives reconciling with such memories.
Redwood Press, 9781503613652, 224pp.
Publication Date: January 12, 2021
About the Author
Marilyn Yalom's books include classics of cultural history such as A History of the Wife, Birth of the Chess Queen, and How the French Invented Love. A former professor of French, she was a senior scholar at the Clayman Institute for Gender Research at Stanford University. She lived in Palo Alto, California, with her husband, psychiatrist and author Irvin D. Yalom.
1. The subjects in this book belong to a generation of people who were children during World War II. What big world events occurred during your childhood? Do you have strong memories associated with those events?
2. In Chapter 1, Marilyn Yalom shares her teachers' notes from report cards on her behavior and conduct in class. How do her their reports change over time, and why?
3. Throughout the book, many of the subjects write about a common childhood memory: an abrupt change in living arrangements. How did they cope with having to relocate? As a child, did your family ever have to relocate? What was that experience like?
4. Chapter 4 tells the remarkable story of Winfried Weiss' experience growing up in Nazi Germany. How is his childhood similar to those of the children in this book who grew up in countries on the Allied side?
5. In Chapter 5, in what ways does Stina Katchadourian demonstrate humor and creativity to cope with the ordeal of her family's constant displacement?
6. In Chapter 7, Robert Berger, a cardiac and pulmonary surgeon, makes the discovery, "It's only in recent years that I connected my passion for risk with my past." What do you think he meant by this?
7. In Chapter 8, Marilyn writes that a friend remarked that she should "question the veracity of childhood memories narrative thirty to seventy years after the end of World War II." Do you agree or disagree with Marilyn's friend?
8. In the present day, the coronavirus pandemic will have impacted the lives of many children. How do you think their experiences will affect their adulthoods? Are there any parallels between the children in this book and children of today?