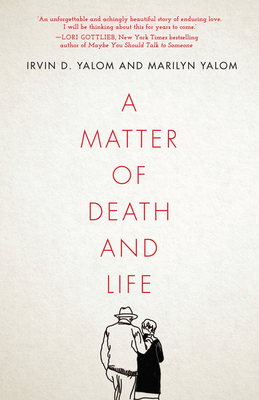 A Matter of Death and Life
Hardcover

* Individual store prices may vary.
Description
A year-long journey by the renowned psychiatrist and his writer wife after her terminal diagnosis, as they reflect on how to love and live without regret.
Internationally acclaimed psychiatrist and author Irvin Yalom devoted his career to counseling those suffering from anxiety and grief. But never had he faced the need to counsel himself until his wife, esteemed feminist author Marilyn Yalom, was diagnosed with cancer. In A Matter of Death and Life, Marilyn and Irv share how they took on profound new struggles: Marilyn to die a good death, Irv to live on without her.
In alternating accounts of their last months together and Irv's first months alone, they offer us a rare window into facing mortality and coping with the loss of one's beloved. The Yaloms had numerous blessings-a loving family, a Palo Alto home under a magnificent valley oak, a large circle of friends, avid readers around the world, and a long, fulfilling marriage-but they faced death as we all do. With the wisdom of those who have thought deeply, and the familiar warmth of teenage sweethearts who've grown up together, they investigate universal questions of intimacy, love, and grief.
Informed by two lifetimes of experience, A Matter of Death and Life is an openhearted offering to anyone seeking support, solace, and a meaningful life.
Redwood Press, 9781503613768, 240pp.
Publication Date: March 2, 2021
About the Author
Irvin D. Yalom, emeritus professor of psychiatry at Stanford University, is the author of internationally bestselling books, including Love's Executioner, The Gift of Therapy, Becoming Myself, and When Nietzsche Wept. Marilyn Yalom's books include classics of cultural history such as A History of the Wife, Birth of the Chess Queen, and How the French Invented Love, as well as her final book released posthumously, Innocent Witnesses: Childhood Memories of World War II. They were married for sixty-five years.
1. From the onset, we know that Marilyn Yalom, an esteemed feminist scholar and writer, is facing a terminal illness. She convinces her husband Irv, a prominent existential psychiatrist who specialized in grief, to drop everything to write about their "final dance of life." How did their 65 years together make reading A Matter of Death and Life more relatable?
2. Did their professional experience—for instance, Marilyn's ability to describe the indescribable numbness of facing death and Irv's memories of past therapy sessions with bereaved patients—bring up specific ways for you to start talking about death and grieving in your own life?
3. Marilyn's Chapter 8 title, "Whose Death is this Anyway?", is a great example of how humor was so important to their facing life—and was always going to be part of how they faced death. Are there other places in the book where you found yourself laughing when you least expected it?
4. How have you used laughter to face hardships and even grief in your own life?
5. In Chapter 9, Irv discusses the "rippling effect" described in Saint Paul's epistles, which came to mind as he grappled with the ripples Marilyn's life has left for her loved ones. Does looking at the ripples of life help in grief? Or make it harder to accept?
6. In Chapter 12, one of Marilyn's friends creates a one-edition book titled Letters to Marilyn in which her talented friends share their appreciation for her and help Marilyn see the ripples of her life. When have you expressed or received the expression of ripples, and how might you show someone else their worth in a meaningful way?
7. The Yaloms share some practical and jarring information about facing death, such as in Chapter 16, where a doctor caring for Marilyn explains that she offers "physician-attended death" and not what is often termed "doctor-assisted suicide." Did their practical language mixed with intense love and commitment help make this idea easier to talk about?
8. In the chapters after Marilyn's death, Irv confronts his own professional experience as both a researcher and therapist who adheres to the idea that a year of birthdays, anniversaries, and the like help diminish the survivor's grief. As a grieving husband, he is less convinced and even worries about getting stuck in his sorrow. Does his human reaction and humility help you speak about your own doubts?
9. Similarly, Irv, a man of science and not a religious person, has never believed in an afterlife. Yet in the end he is comforted by the thought of "joining Marilyn"—even if he has no idea how or whether that can happen. What complexities of death do you want to discuss? And where do you ultimately look for comfort?
10. Irv dedicated his life to helping the bereaved in therapy and admits writing this book has changed him as a therapist. How has this book helped you with your own grief or in counseling others about grief?