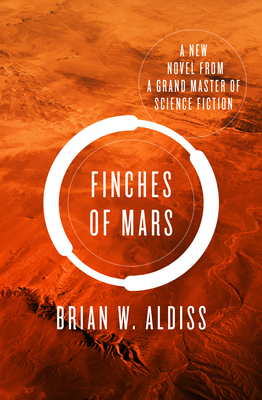 Finches of Mars
Paperback

* Individual store prices may vary.
Description
Colonists on Mars fight to prevent their own extinction in "a suspenseful genre-bending combination of straight SF and mystery" (Booklist, starred review).

Doomed by overpopulation, irreversible environmental degradation, and never-ending war, Earth has become a fetid swamp. For many, Mars represents humankind's last hope. In six tightly clustered towers on the red planet's surface, the colonists who have escaped their dying home world are attempting to make a new life unencumbered by the corrupting influences of politics, art, and religion. Unable ever to return, these pioneers have chosen an unalterable path that winds through a landscape as terrible as it is beautiful, often forcing them to compromise their beliefs--and sometimes their humanity--in order to survive.

But the gravest threat to the future is not the settlement's total dependence on foodstuffs sent from a distant and increasingly uncaring Earth, or the events that occur in the aftermath of the miraculous discovery of native life on Mars--it is the fact that in the ten years since colonization began, every new human baby has been born dead, or so tragically deformed that death comes within hours.

The great Brian W. Aldiss has delivered a dark and provocative yet ultimately hopeful magnum opus rich in imagination and bold ideas. A novel of philosophy as much as science fiction, Finches of Mars is an exploration of intellectual history, evolution, technology, and the future by one of speculative fiction's undisputed masters.
Open Road Media Science & Fantasy, 9781504002134, 202pp.
Publication Date: August 4, 2015
About the Author
Brian W. Aldiss was born in Norfolk, England, in 1925. Over a long and distinguished writing career, he published award-winning science fiction (two Hugo Awards, a Nebula Award, and the John W. Campbell Memorial Award); bestselling popular fiction, including the three-volume Horatio Stubbs saga and the four-volume the Squire Quartet; experimental fiction such as Report on Probability A and Barefoot in the Head; and many other iconic and pioneering works, including the Helliconia Trilogy. He edited many successful anthologies and published groundbreaking nonfiction, including a magisterial history of science fiction (Billion Year Spree, later revised and expanded as Trillion Year Spree). Among his many short stories, perhaps the most famous was "Super-Toys Last All Summer Long," which was adapted for film by Stanley Kubrick and produced and directed after Kubrick's death by Steven Spielberg as A.I. Artificial Intelligence. Brian W. Aldiss passed away in 2017 at the age of 92.
or
Not Currently Available for Direct Purchase