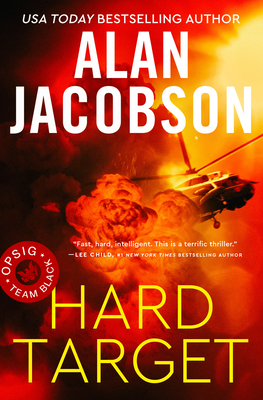 Hard Target (Opsig Team Black #2)
Paperback

* Individual store prices may vary.
Other Editions of This Title:
Paperback (6/1/2012)
Description
After an assassination attempt on the president-elect, the OPSIG team is on the hunt in this "terrific thriller" from the USA Today-bestselling author (Lee Child).

Hard Target by Alan Jacobson is a ticking time bomb that will keep you clinging to the edge of your seat . . . and turning the pages.

An explosion pulverizes the president-elect's helicopter on election night. It soon becomes clear that the group behind the assassination attempt possesses far greater reach than the FBI Joint Terrorism Task Force has yet encountered--and a plot so deeply interwoven in the country's fabric that it threatens to upend America's political system.
Open Road Media Mystery & Thri, 9781504013383, 458pp.
Publication Date: December 15, 2015
About the Author
Alan Jacobson is a national bestselling author. In order to take readers behind the scenes to places they might never go, Jacobson has embedded himself in many federal agencies, including spending several years working with two senior profilers at the Federal Bureau of Investigation's vaunted Behavioral Analysis Unit in Quantico. During that time, Jacobson edited four published FBI research papers on serial offenders, attended numerous FBI training courses, worked with the head firearms instructor at the academy, and received ongoing personalized instruction on serial killers--which continues to this day. He has also worked with high-ranking members of the Drug Enforcement Administration, the US Marshals Service, the New York Police Department, SWAT teams, local bomb squads, branches of the US military, chief superintendents and detective sergeants at Scotland Yard, criminals, armorers, helicopter pilots, chief executive officers, historians, and Special Forces operators. These experiences have helped him to create gripping, realistic stories and characters. His series protagonist, FBI profiler Karen Vail, resonates with both female and male readers, and writers such as Nelson DeMille, James Patterson, and Michael Connelly have called Vail one of the most compelling heroes in suspense fiction. Jacobson's books have been published internationally, and several have been optioned for film and television. A number have been named to Best of the Year lists. Jacobson has been interviewed extensively on television and radio, including on CNN, NPR, and multiple ABC, CBS, NBC, and Fox network affiliates.