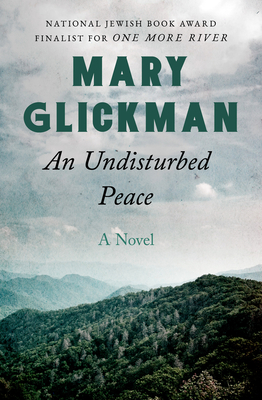 An Undisturbed Peace
Paperback

* Individual store prices may vary.
Other Editions of This Title:
MP3 CD (10/18/2016)
Description
Hailed as "the finest depiction of the infamous Trail of Tears," this unflinching novel sheds light on a tragic history (Pat Conroy).

As the tribes of the South make the grueling journey across the Mississippi River, a trio of disparate characters is united by a "far-reaching story of love, courage, and honor" (Booklist).

Greensborough, North Carolina, 1828. Abrahan Bento Sassaporta Naggar has traveled to America from the filthy streets of East London in search of a better life. But Abe's visions of a privileged apprenticeship in the Sassaporta Brothers' empire are soon replaced with the grim reality of indentured servitude.

Some fifty miles west, Dark Water of the Mountains, the daughter of a powerful Cherokee chief, leads a life of irreverent solitude. Twenty years ago, she renounced her family's plans for her to marry a wealthy white man--a decision that soon proves fateful.

And in Georgia, a black slave named Jacob has resigned himself to a life of loss and injustice in a Cherokee city of refuge for criminals.

From the author of Marching to Zion and One More River comes a sweeping novel of American history. As their stories converge in the shameful machinations of history, three outsiders will bear witness to the horrors known as Andrew Jackson's Indian Removal Act--just as they also discover the possibility for hope. See why Library Journal raves, "This absorbing and vivid portrait of 19th-century America will attract serious historical fiction fans."

Open Road Media, 9781504018340, 378pp.
Publication Date: February 2, 2016
Why do you think Mary Glickman chose to call the novel An Undisturbed Peace?
How do the names of parts one and two, "Genesis" and "Exodus," contribute to our understanding of the novel?
How is the New World portrayed in Glickman's novel? What can we gather about 19th-century America?
Mary Glickman chooses a narrative structure that is not temporally continuous. Even though the story begins in 1828, she depicts events that transpired decades before by having her characters tell their own stories. Why do you think she chose to construct a narrative that is as grounded in storytelling as in present action?
How do Abe's motivations for action shift throughout the novel? Which characters cause Abe to change in the most dramatic ways?
How does Abe's relationship with Dark Water change over the course of the novel?
How are men and women portrayed in An Undisturbed Peace and what are their different roles in each society?
How does Abe receive the Cherokee and their culture? How does his personal and historical context contribute to his perspective?
Why do you think Mary Glickman included the scenes of Abe in Washington? From the text, does Washington appear to be connected to the reality of its policies? How do discussions of the Indian Removal Act in Washington differ from what is happening in the South?
When Abe speaks or thinks about Dark Water, he is inconsistent in which name he uses. What is the significance of his use of her Christian name, Marian, over her given name and vice versa?
On page 264, Abe tells Dark Water that her pride is a large part of who she is. Do you think this is true? What role does pride play in the events that transpire for Dark Water and for Abe?
On page 124, the narrator describes how Abe changes his religious traditions while in America: "For his own well-being, he went along with custom, tucking in his tzitzit, trading his yarmulke for a cap, and rarely declaring himself. Life was easier that way." How does Abe's Judaism affect his relationships with others in the novel? And what discoveries does he make about his identity as a Jew in America?
or
Not Currently Available for Direct Purchase