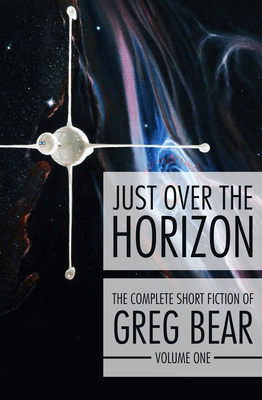 Just Over the Horizon (Complete Short Fiction of Greg Bear #1) (Paperback)
Open Road Media Science & Fantasy, 9781504021456, 370pp.
Publication Date: April 26, 2016
* Individual store prices may vary.
Description
The New York Times Book Review hails this collection of thirteen dazzling stories and a rare screenplay by Hugo and Nebula Award-winning author Greg Bear as a "solid introduction to the oeuvre of a classic writer."

Greg Bear--author of Queen of Angels, Eon, and Hull Zero Three, among many other hugely popular novels--has an ability to transform challenging scientific concepts into gripping fiction that has won him numerous awards and an avid following. He has written novels about interstellar war, human evolution, intelligent bacteria, international terrorism, and the exploration of deep space--but he doesn't stop there. This brilliant collection of Bear's stories, each newly revised by the author, proves he is a master of the short form as well. Just Over the Horizon offers thirteen mind-bending explorations of the near future . . . or just beyond the border of conventional reality. The volume includes:

- "Blood Music," a Hugo and Nebula award-winning classic and the basis for the novel of the same name--and the first science-fictional exploration of nanotechnology;
- "Sisters," in which high school students find maturity and family by confronting a tragic genetic destiny;
- "Tangents," winner of the Hugo and Nebula Awards, about a persecuted scientist who seeks refuge in a better world;
- "Dead Run," a tale of union truck drivers ferrying souls through Death Valley into Hell, adapted for an episode of the television series The Twilight Zone;
- "Sleepside Story," which Bear calls one of his favorite pieces, an urban fantasy tale that takes a music student by Night Metro to the Sleepside mansion of a magical woman of the night, inverting "Beauty and the Beast" in a very modern mirror;
- "Genius," the screenplay written for the television series Outer Limits, but never produced.

Just Over the Horizon combines Bear's intense concern with the human condition with a deep understanding of science, resulting in a collection long to be remembered.


About the Author
Greg Bear is the author of over twenty-five books, which have been translated into seventeen languages. He has won science fiction's highest honors and is considered the natural heir to Arthur C. Clarke. The recipient of two Hugo Awards and four Nebula Awards, Bear has been called "the best working writer of hard science fiction" by the Science Fiction Encyclopedia. Many of his novels, such as Darwin's Radio, are considered to be classics of his generation. Bear is married to Astrid Anderson--who is the daughter of science fiction great Poul Anderson--and they are the parents of two children, Erik and Alexandria. Bear's recent publications include the thriller Quantico and its sequel, Mariposa; the epic science fiction novel City at the End of Time; and the generation starship novel Hull Zero Three.