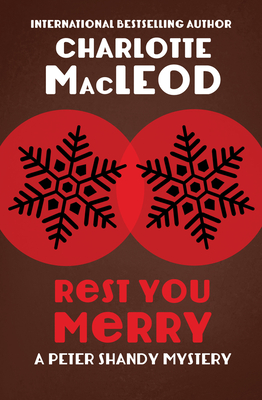 Rest You Merry (Peter Shandy Mysteries #1)
Paperback

* Individual store prices may vary.
Other Editions of This Title:
Digital Audiobook (6/28/2021)
MP3 CD (8/30/2016)
Compact Disc (5/2/2019)
Description
A Christmas scrooge discovers a murdered librarian in this holiday novel from an Edgar Award finalist known for her "witty, literate, and charming" mysteries (Publishers Weekly).
Each December, the faculty of Balaclava Agricultural College goes wild with holiday decorations. The entire campus glitters with Christmas lights, save for one dark spot: the home of professor Peter Shandy. But after years of resisting the school's Illumination festival, Shandy suddenly snaps, installing a million-watt display of flashing lights and blaring music perfectly calculated to drive his neighbors mad. Then the horticulturalist flees town, planning to spend Christmas on a tramp steamer. It's not long before he feels guilty about his prank and returns home to find his lights extinguished--and a dead librarian in his living room. Hoping to avoid a scandal, the school's head asks Shandy, sometimes detective, to investigate the matter quietly. After all, Christmas is big business, and the town needs the cash infusion that typically comes with the Illumination. But as Shandy will soon find out, there's a dark side to even the whitest of white Christmases.
Mysteriouspress.Com/Open Road, 9781504045100, 234pp.
Publication Date: May 16, 2017
About the Author
Charlotte MacLeod (1922-2005) was an internationally bestselling author of cozy mysteries. Born in Canada, she moved to Boston as a child, and lived in New England most of her life. After graduating from college, she made a career in advertising, writing copy for the Stop & Shop Supermarket Company before moving on to Boston firm N. H. Miller & Co., where she rose to the rank of vice president. In her spare time, MacLeod wrote short stories, and in 1964 published her first novel, a children's book called Mystery of the White Knight. In Rest You Merry (1978), MacLeod introduced Professor Peter Shandy, a horticulturist and amateur sleuth whose adventures she would chronicle for two decades. The Family Vault (1979) marked the first appearance of her other best-known characters: the husband and wife sleuthing team Sarah Kelling and Max Bittersohn, whom she followed until her last novel, The Balloon Man, in 1998.