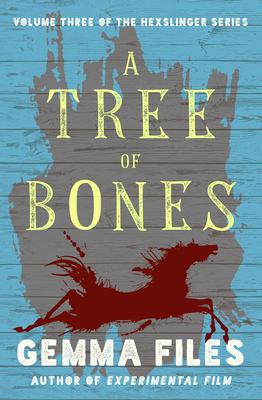 A Tree of Bones (Hexslinger #3)
Paperback

* Individual store prices may vary.
Other Editions of This Title:
Paperback (5/15/2012)
Description
"The rousing conclusion to Files's remarkable Hexslinger trilogy . . . A bravura performance" from the author of A Book of Tongues and A Rope of Thorns (Publishers Weekly). A new Civil War is brewing. With the city of Bewelcome as its headquarters, Allan Pinkerton's Detective Agency leads a siege on Hex City, the town founded by "Reverend" Asher Rook and his consort, the Mayan goddess Ixchel. Monsters prowl the battleground, rocket trails of spells crisscross the sky, and an unnatural rain falls. Sides must be taken, but Pinkerton-agent-turned-outlaw Ed Morrow, spiritualist Yancey Kloves, and even Rook must choose what ruin or redemption means to each of them. Meanwhile, Chess Pargeter gears up for the greatest fight of his life--and death. A battle out of hell itself . . . Praise for the Hexslinger Series "Gemma's been producing top-notch horror stories for years, and her weird Western Hexslinger trilogy is chock full of hellish horrors." --Mike Allen, author of Unseaming "Potent mythology, complex characters, and dollops of creeping horror and baroque gore establish Files's Hexslinger series as a top-notch horror-fantasy saga." --Publishers Weekly "Paints a stark, vivid, and gory picture of the 'wild west' in the years following the Civil War . . . Files's latest is not for the squeamish but should delight fans of gothic Western fantasy and Central American myths." --Library Journal "Ridiculously vivid . . . A magic-riddled, horror-strewn West with hexes running around wrecking reality and a spectrum of queer characters." --Tor.com "Truly one-of-a-kind: violent, carnal and creepy." --Fangoria
Open Road Media Science & Fantasy, 9781504063913, 450pp.
Publication Date: October 13, 2020
About the Author
Gemma Files, a former film critic, journalist, screenwriter, and teacher, has been an award-winning horror author since 1999. She has published two collections of short work; two chapbooks of speculative poetry; the "weird western" Hexslinger Series; a story-cycle; and the standalone novel Experimental Film, which won the 2016 Shirley Jackson Award for Best Novel and the 2016 Sunburst Award for Best Adult Novel. Files also has several story collections and a collection of poetry forthcoming.