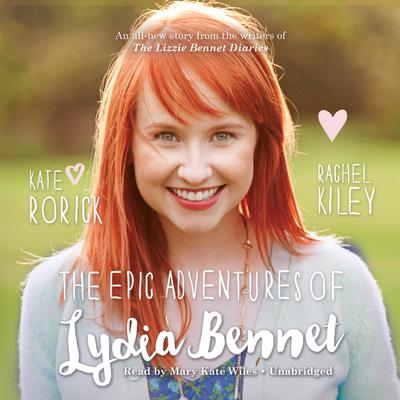 The Epic Adventures of Lydia Bennet (The Lizzie Bennet Diaries) (Digital Audiobook)
Publication Date: September 28, 2015
Other Editions of This Title:
Paperback (9/29/2015)
Description
Based on the Emmy Award-winning web series The Lizzie Bennet Diaries, this is a new novel starring Lizzie's spunky sister Lydia as she navigates the joys and pitfalls of becoming an adult in the digital age.Before her older sister, Lizzie, started her wildly popular vlog, Lydia was just a normal twenty-year-old plotting the many ways she could get away with skipping her community college classes and finding the perfect fake ID. She may not have had much direction, but she loved her family and had plenty of fun. Then Lizzie's vlog turned the Bennet sisters into Internet sensations, and Lydia basked in the attention as people watched, debated, tweeted, tumblr'd, and blogged about her life. But not all attention is good.After her ex-boyfriend George Wickham took advantage of Lydia's newfound web fame, betrayed her trust, and destroyed her online reputation, she's no longer a naive, carefree girl. Now Lydia must work to win back her family's trust and respect and find her place in a far more judgmental world.Told in Lydia's distinctive, eccentric, and endearing voice, The Epic Adventures of Lydia Bennet picks up right where The Secret Diary of Lizzie Bennet left off. Featuring fresh twists, wonderful new characters, and scores of hilarious texts and tweets, The Epic Adventures of Lydia Bennet takes you behind the webcam and into the lives of your favorite sisters in a way that's sure to satisfy existing fans and delight new ones.
About the Author
Kate Rorick is a
bestselling author and television writer. Her television credits include Law & Order: Criminal Intent and Terra Nova, among others. She has also
written for and served as consulting producer on the Emmy-awarding winning media
series The Lizzie Bennet Diaries. She studied film and television production and writing at Syracuse University before beginning her career in New York City and eventually crossing the
country to Los Angeles. When not writing for television, she can be found in
various LA coffee shops working on her latest historical romance novel, under
the name of Kate Noble, for which she has been nominated for the RITA award, romance
writing's highest honor.