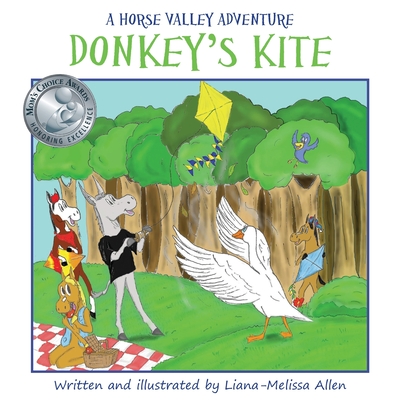 Donkey's Kite (Paperback)
A Horse Valley Adventure-Book 2
Createspace Independent Publishing Platform, 9781505604610, 40pp.
Publication Date: January 9, 2015
* Individual store prices may vary.
Description
A MOM'S CHOICE AWARDS(R) Silver Winner A FIVE STARS READERS' FAVORITE(R) "Donkey's Kite is a wonderful story that children will love just like I did. The beautiful message conveyed in Donkey's Kite will make children not only want to read the story, but it will become one of their favorites so that they will want to read it over and over again. Donkey's persistence and his ability to allow someone to assist him with his dilemma are paramount in resolving the hardship that he was experiencing. Children will learn and discover that there are times in life when help can sometimes come from unknown places, and that they must be open to it." "Excellent fable...laced with humor, charm, and a bit of the Golden Rule. The second volume in a fresh horse fantasy series, tells the entertaining story of three horse brothers and their friend Donkey who are excitedly creating homemade kites for kite flying day at Horse Meadow Park. Cheery, expressive horse and donkey figures in color who learn more about being good friends together and looking out for each other." --Children's Bookwatch, MBR (Midwest Book Review): Donkey's Kite: A Horse Valley Adventure (Book 2) by Liana-Melissa Allen is a children's picture book about perseverance, motivation and the willingness to be open to others. This book is full of beautiful illustrations and is part of the Horse Valley Adventure series. The three little horses, Lax, Jack, and Max, are brothers that decided to go out kite flying with their friend, Donkey. As the three brothers were diligently creating and designing their kites, Donkey immediately began to have problems. It appears that no one was aware of his problems, so they did not offer to help, nor did Donkey seek help from his friends. Donkey's kite was too flimsy and would not fly, but Donkey was persistent. Eventually, he met Gusty the goose, who helped Donkey to be able to fly his kite like his friends, Lax, Jack, and Max. --A Five Stars Readers' Favorite(R) Review THE STORY: In the enchanted land of Horse Valley, it is a perfect day to go kite flying Horse brothers Jack, Max, Lax, and their friend Donkey decide to get creative by putting together their own homemade kites. However, Donkey's kite doesn't turn out very good. No matter how hard he tries to get it to fly, it just keeps tumbling to the ground. How will poor Donkey get his kite to fly? Well, a friendly goose named Gusty is delighted to help him out. In this Horse Valley Adventure and a Mom's Choice Award(R) Silver Winner, Donkey learns not to give up when all seems hopeless. They all learn a lesson about helping others and true friendship. **A MOM'S CHOICE AWARDS(R) Silver Medalist Winner honoring excellence...and a FIVE STARS READERS'FAVORITE(R)
About the Author
A multiple MOM'S CHOICE AWARDS(R) Winner and FIVE STARS READERS' FAVORITE author/illustrator, Liana-Melissa Allen has written and illustrated eight popular books for children and youth. She is a cartoonist, writer, and pianist. "I love to create characters that range from the whimsical to the anamorphic goofballs, to the awesomely abnormal humans. I write and illustrate children's books including a picture book series for ages 5 to 10 called 'A Horse Valley Adventure'. 'Max's Day at School' is my latest and third book of the series. I also have a 'Horse Valley Toons' comic strip on my website that follows the comical adventures of my Horse Valley crew, Max, Jack, Lax, Donkey, and the young mischievous Twiddle and Dwiddle. My home is in Southern California with a playful yellow lutino budgie named Peeps that is always willing to help me when I get stuck on a project. Visit my website at LMABOOKS.COM for more about my books and to download some of my Horse Valley characters for your young ones to color...and also enjoy my cartoons and some of my jazz and classical piano while there!"