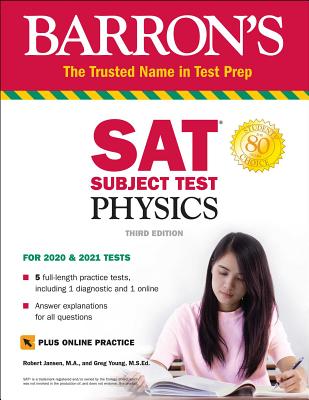 SAT Subject Test Physics with Online Test (Barron's Test Prep) (Paperback)
Barrons Educational Series, 9781506251127, 608pp.
Publication Date: August 6, 2019
* Individual store prices may vary.
Description
Barron's SAT Subject Test Physics is updated to reflect the current exam and features three full-length practice tests along with detailed content review and expert tips to help students improve their score.
This edition includes:
One diagnostic test to help students determine their strengths and weaknesses
Three full-length practice tests in the book, which reflect the most recent actual tests in length, subject matter, and degree of difficulty
One full-length practice test online
Answers and explanations for all questions
Self-assessment guides after each test so students can measure their progress
Extensive subject review covering all topics on the test, including mechanics, electricity and magnetism, waves and optics, thermodynamics, and more
About the Author
​About the Authors
Robert Jansen teaches Advanced Placement Physics at Aliso Niguel High School in Aliso Viejo, California. He has taught Advanced Placement Physics B since 1998 and the complete Advanced Placement Physics C course, including electricity and magnetism, since 2001. He holds a bachelors degree in psychobiology from the University of California, Los Angeles, and a master's degree in education from Pepperdine University. He gravitated toward teaching physics due to the challenging material and a sustained belief that physics does not need to be mysterious and difficult, but rather comprehensible and accessible.

Greg Young has been teaching high school science for more than twenty years. He currently teaches Honors Physics and Chemistry at San Clemente High School in San Clemente, California. He holds a bachelor's degree in biochemistry from the University of California, San Diego, and a master's degree in science education from USC. Having always been interested in science and how to make it relevant to others, Greg's interest in teaching is being able to create interactive lessons that engage students in their learning and form a relevant context for difficult concepts in physics and chemistry.

About the Publisher
In the 1930s, Manuel H. Barron opened a bookstore in Brooklyn, New York. 

People from the community asked Mr. Barron about books that might be available to help their children study for the New York State Regents exams. After realizing there wasn't anything available, Mr. Barron's created his own study guides.

80 years later, Barron's has helped millions of people prepare for their next step.