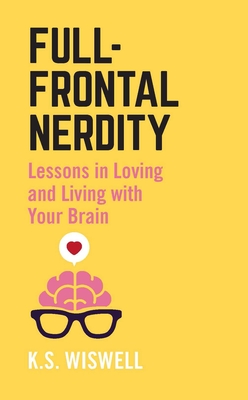 Full-Frontal Nerdity
Lessons in Loving and Living with Your Brain
Paperback

* Individual store prices may vary.
Description
Adulting is hard; laugh and learn.

If you've ever wondered what astrophysics can teach you about the dating pool or how quantum particles can show you how to ignore the haters, look no further. From a Nerd-of-All-Trades comes Full-Frontal Nerdity, a collection of personal essays about applying all that "useless" book learning toward the more practical pursuits of life, love, and releasing your inner quantum.

Long before "The Big Bang Theory" made geek scientists cool, there have been Sheldons trying to navigate the world of Pennys. It isn't always pretty, but it makes for great stories. Full-Frontal Nerdity is a collection of some of those stories—like the time the author got into a debate about the nature of addition with a Time Warner Cable representative or used the many-worlds theory to cheer herself up after a bad day.

Full-Frontal Nerdity explores the struggles of being a thinking adult in an often-irrational world, taking inspiration from many subjects—statistics, mythology, physics, poetry, and even the nature of pi—to gain insight into the everyday mysteries of living. What can a decades-old math problem teach us about biological clocks and the pressure to marry? Why is the history of Leap Day a cautionary tale about traditional gender roles and asserting power? How can Bayesian reasoning stop us from writing off a potential partner too early or letting a dud stick around too long?

In a series of short, light-hearted pieces, Full-Frontal Nerdity will introduce readers to some fascinating nerdy concepts, explore the more practical lessons to be gleaned from those subjects, and provide a newfound depth of understanding about living, loving, and simply being in a humorously complex world.
Barrons Educational Services, 9781506254326, 176pp.
Publication Date: January 7, 2020
About the Author
K.S. Wiswell went into Harvard to become a cryptographer and came out with a degree in English Literature. Along the way, she studied physics, statistics, philosophy, mythology, and marching band. After three years in the corporate world, she escaped to Los Angeles and joined the Second City, because improv is cheaper than therapy. She remains an overeducated comedy writer who teaches logic to balance the insanity. Over the years, she has been told by serious men that she is "pretty smart for a girl," "pretty funny for a girl," and once (after a disastrous Mary Lou Retton–inspired haircut) "pretty cute for a boy." All of which is pretty dumb for a society, so she has made it her mission to promote the fact that Smart Is Sexy.
or
Not Currently Available for Direct Purchase