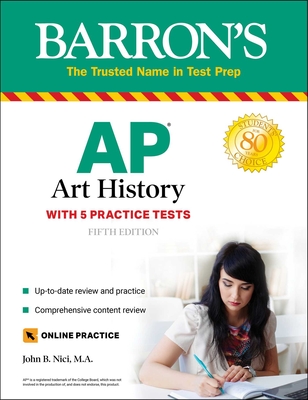 AP Art History (Paperback)
With 5 Practice Tests (Barron's Test Prep)
Barrons Educational Series, 9781506260501, 648pp.
Publication Date: August 4, 2020
* Individual store prices may vary.
Description
Barron's AP Art History with 5 Practice Tests is aligned with the College Board's AP course and provides comprehensive review and practice for the exam.
This edition includes:

One diagnostic test and two full-length practice exams in the book with all questions answered and explained


Two full-length online practice tests with answers and explanations


Art history review describing major artists and art movements


400 online flashcards to help students review required works of art


Multiple-choice questions and practice essays after every chapter

About the Author
John B. Nici has a master's degree in art history and is retired from teaching at Lawrence High School in Cedarhurst, New York. He is currently a professor of art history at Queens College in Flushing, New York. In 2004 he was the recipient of Queens College's President's Award for Excellence in Teaching by Adjunct Faculty. He has published extensively on art history pedagogy and has presented and published scholarly papers on topics that include Byzantine art, Gothic art, and Delacroix. He is the author of Famous Works of Art—and How They Got that Way.

About the Publisher
In the 1930s, Manuel H. Barron opened a bookstore in Brooklyn, New York. 

People from the community asked Mr. Barron about books that might be available to help their children study for the New York State Regents exams. After realizing there wasn't anything available, Mr. Barron's created his own study guides.

80 years later, Barron's has helped millions of people prepare for their next step.