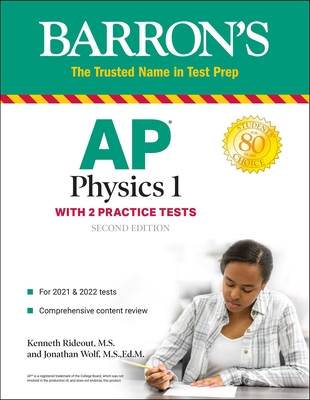 AP Physics 1 (Paperback)
With 2 Practice Tests (Barron's Test Prep)
Barrons Educational Series, 9781506262017, 312pp.
Publication Date: August 4, 2020
* Individual store prices may vary.
Description
Barron's AP Physics 1 Study Guide: With 2 Practice Tests, Second Edition provides in-depth review for the AP Physics 1 exam, which corresponds to a first-year, algebra-based college course. Comprehensive subject review covers vectors, kinematics, forces and Newton's Laws of Motion, energy, gravitation, impacts and linear momentum, rotational motion, oscillatory motion, electricity, and waves and sound.
This fully updated book offers in-depth review for the exam and helps students apply the skills they learned in class. It includes:

Two practice tests that reflect the AP Physics 1 exam (in terms of format, content tested, and level of difficulty) with all answers fully explained


A short diagnostic test for assessing strengths and weaknesses


Practice questions and review that cover all test areas


Tips and advice for answering all question types 


Added information about the weighting of points by topic>

About the Author
Ken Rideout has a B.S. in Honors Physics from Purdue University and an M.S. in Physics from Carnegie Mellon University. He has been teaching high school physics for more than fifteen years in the Boston area and is currently the science department head at Wayland High School in Wayland, MA.

Jonathan Wolf has taught all levels of physics at both the secondary school and college level for over 36 years. He spent 25 of those years teaching physics at Scarsdale High School in Scarsdale, New York and retired from there in 2014. He has taught introductory college physics lectures and introductory college physics labs as a member of the adjunct faculty at Hofstra University, Seton Hall University, and most recently at Fairleigh Dickinson University in Madison, New Jersey. He is the author of the former Barron's AP Physics B review book, Barron's College Review: Physics, and was a co-author of the former version of Barrons SAT Physics Subject Test Review. He has published over forty professional papers in the fields of Astronomy, Physics, and Physics Education and served for more than ten years as Assistant Editor for The Science Teachers Bulletin published by the Science Teachers Association of New York State (STANYS).

About the Publisher
In the 1930s, Manuel H. Barron opened a bookstore in Brooklyn, New York. 

People from the community asked Mr. Barron about books that might be available to help their children study for the New York State Regents exams. After realizing there wasn't anything available, Mr. Barron created his own study guides.

80 years later, Barron's has helped millions of people prepare for their next step.