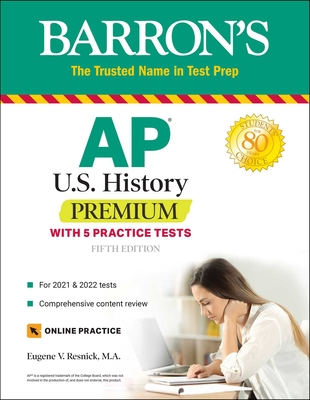 AP US History Premium
With 5 Practice Tests (Barron's Test Prep)
Paperback

* Individual store prices may vary.
Description
Barron's AP United States History Premium is aligned with the current exam and includes comprehensive subject review plus five realistic practice tests.
This edition includes:
Two full-length practice tests in the book with all questions answered and explained
Three full-length online practice tests with all questions answers and explained
Test-taking strategies for answering multiple choice, short answer, long essay, and document-based questions
Comprehensive review of all topics on the AP U.S. History curriculum, including pre-contact American Indian societies and the evolution of Colonial society; the American Revolution; the Civil War and Reconstruction; the growth of industrial America; World War I; the Great Depression; World War II; the Cold War; America in the age of Clinton, Bush, and Obama; and much more
Barrons Educational Series, 9781506263052, 576pp.
Publication Date: August 4, 2020
About the Author
Eugene V. Resnick has taught in the Social Studies Department at Midwood High School in Brooklyn, New York, over 25 years; he has taught AP United States History for 18 of those years. He received a Master's degree in American History from Brooklyn College.

About the Publisher
In the 1930s, Manuel H. Barron opened a bookstore in Brooklyn, New York. 

People from the community asked Mr. Barron about books that might be available to help their children study for the New York State Regents exams. After realizing there wasn't anything available, Mr. Barron created his own study guides.

80 years later, Barron's has helped millions of people prepare for their next step.