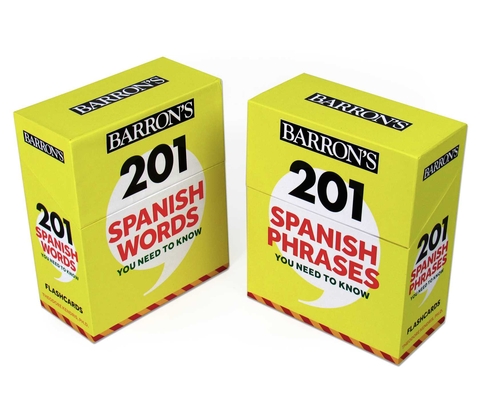 Spanish Words and Phrases You Need to Know (Paperback)
Barrons Educational Series, 9781506263502, 412pp.
Publication Date: December 24, 2019
* Individual store prices may vary.
Description
Learn the most common Spanish words and phrases with two sets of flashcards. Barron's Spanish Words and Phrases You Need to Know includes more than 400 flashcards with the 201 most common words and the 201 most common phrases.

Each card includes a Spanish word or phrase with phonetic pronunciation on the front, with the English translation and a photo on the back. You'll also find feature cards that provide pronunciation guidance, verb conjugations, pronouns, numbers, and more.

With Spanish Words You Need to Know, you'll get a sample sentence to provide the word in context, plus helpful tips for word usage. Words are organized in color-coded categories, including nouns, verbs, adverbs, adjectives, prepositions, and tricky words.

With Spanish Phrases You Need to Know, you'll get helpful tips to highlight different usage and alternate phrasing. Phrases are organized in color-coded categories, including greetings, questions, feelings/emotions, well wishes, activities/interests, and weather.

Studying each word and phrase through visualization and association will increase memory retention--helping you learn and speak Spanish quickly and for longer!
About the Author
About the Author
Dr. Theodore Kendris earned his B.A. degree in Modern Languages at Union College, Schenectady, New York, where he received the Thomas J. Judson Memorial Book Prize for modern language study. He went on to earn his M.A. degree in French Language and Literature at Northwestern University, Evanston, Illinois, where he held a Teaching Assistantship. He earned his Ph.D. degree in French Literature at Université Laval in Quebec City, where he studied the Middle Ages and Renaissance. While at Université Laval, he taught French writing skills as a chargé de cours in the French as a Second Language program, and he was awarded a doctoral scholarship by the Fondation de l'Université Laval. Dr. Kendris has also taught in the Department of English and Foreign Languages at the University of St. Francis in Joliet, Illinois, as well as at the Hazleton Campus of Penn State University. He is currently an instructor in the Department of Languages and Cultures at Bloomsburg University, Bloomsburg, Pennsylvania.

About the Publisher
In the 1930s, Manuel H. Barron opened a bookstore in Brooklyn, New York. People from the community asked Mr. Barron about books that might be available to help their children study for the New York State Regents exams. After realizing there wasn't anything available, Mr. Barron's created his own study guides.

80 years later, Barron's has helped millions of people prepare for their next step.