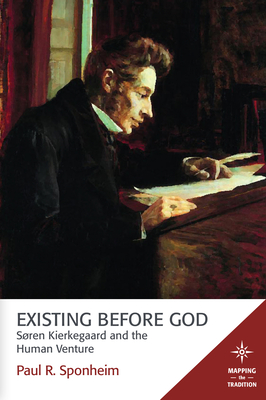 Existing Before God
Sren Kierkegaard and the Human Venture (Mapping the Tradition)
Paperback

* Individual store prices may vary.
Description
Sren Kierkegaard (18131855), the Danish theologian, philosopher, and preacher, in his last years issued a blistering attack on the established Christianity of the nineteenth century. That challenge was also a summons to an authentic life of Christian faith. With intensity and acumen, Kierkegaard diagnosed the spiritual and intellectual ills of modernity and Christendom and offered a constructive upbuilding for active, faithful Christian existence. One of Kierkegaard's key texts, The Sickness unto Death, outlines the problem of the human conditionsin/despairand draws the reader into the heart of the Christian faith: the infinite qualitative difference between God and creatures and the paradox of the God-man who came to bring abundant life in the form of authentic selfhood grounded transparently in the Creator. In this volume, Paul R. Sponheim, introduces readers to Kierkegaard, unfolds this pivotal text and its connections to Kierkegaard's theological and ethical worldview, and traces the reception and significance of this text in the modern and contemporary theological tradition. In this, Existing Before God continues the contribution of the Mapping the Tradition series in providing compact yet salient maps of the theological, historical, social, and contextual impact of the most important minds and texts of Christian history.
Fortress Press, 9781506405636, 200pp.
Publication Date: January 1, 2017