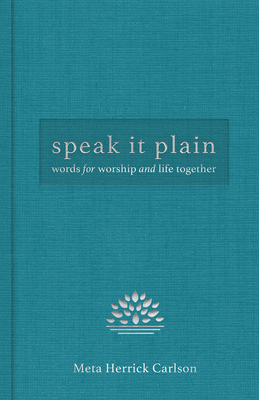 Speak It Plain
Words for Worship and Life Together
Hardcover

* Individual store prices may vary.
Description
Speak It Plain: Words for Worship and Life Together delivers prayers, blessings, litanies, and liturgies for key moments in corporate worship and intimate gatherings of God's people. This collection is intended as a companion to other resources already being used for planning worship and living together in Christian community. Meta Herrick Carlson invites pastors and other leaders to pay attention to the great theology that sometimes is hidden beneath our high church language, patriarchal customs, and insular questions. Her language models healthy boundaries and marks life events, such as separation or divorce, political or civic grief, and anointing people in transition. She hopes her prayers and litanies will help you speak it plain, that the weight of unspoken trauma will lose its power, the work of the people will be reclaimed by the people, and the assembly will be inspired to deeper connections between worship and the questions we are asking today.
The book includes prayers for many occasions, seasonal blessings, and a variety of litanies and liturgies for use in various worship settings and special services. Selections intended for group use with group responses will be available for download for all purchasers of the book.
Fortress Press, 9781506450636, 200pp.
Publication Date: December 1, 2020