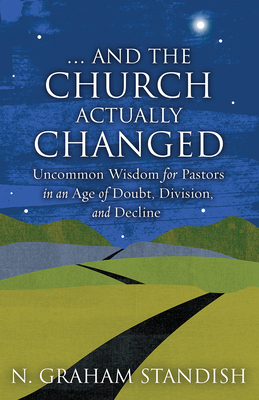 . . . And the Church Actually Changed (Paperback)
Uncommon Wisdom for Pastors in an Age of Doubt, Division, and Decline
Fortress Press, 9781506461946, 175pp.
Publication Date: September 1, 2020
* Individual store prices may vary.
Description
The mainline church is in a drastic decline, and that decline is hitting clergy and churches on all sides of the theological debates. Pastors are struggling, and the ever-changing trends of ministry don't seem to be staunching the decline. . . . And the Church Actually Changed: Uncommon Wisdom for Pastors in an Age of Doubt, Division, and Decline arises out of N. Graham Standish's work as a spiritual director and coach to clergy of all denominations and traditions, and as the pastor of a healthy, growing, and somewhat alternative church for more than twenty-two years. He has helped pastors become healthier and more effective as they carry out the ministry to which they are uniquely called.
. . . And the Church Actually Changed addresses issues brought up by clergy themselves in his coaching work with them. Using an integrative approach to ministry, Standish draws on insights from counseling, spiritual direction, organizational development, and other fields. The book is written in the form of dialogues between a clergy coach and various clergy clients who are struggling in their ministry. Each chapter addresses a significant clergy leadership issue, yet the dialogue allows coach and pastor to deal with issues pragmatically by exploring both the big picture and the details of leading a healthy church.