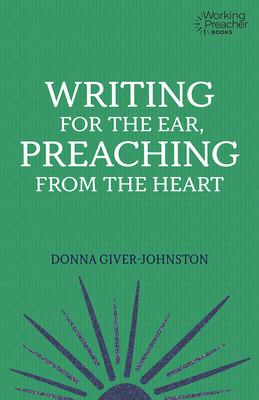 Writing for the Ear, Preaching from the Heart
Paperback

* Individual store prices may vary.
Description
Words bombard us every day. Words can be noisy and cheap. And yet, words are all preachers have. In Writing for the Ear, Preaching from the Heart, Donna Giver-Johnston addresses the question: How do you capture ears in an era of noise? Many preachers want to get away from their notes and make a more personal connection with their listeners, but they have not been mentored in methods that enable them to do that.
Grounded in a theology of incarnation and articulation and coupled with an awareness of what listeners most need and want to hear, Giver-Johnston explains how preachers can communicate more effectively--how they can write sermons for the ear, with the fewest, most impactful words to craft a memorable message. She also provides guidance on how to preach sermons by heart, without notes, to communicate a message that captures the ears and hearts of listeners.
In a time when attention spans are shortening and church participation is declining, this book provides a proven method for preachers to communicate in ways that are meaningful and memorable to aching ears today and that can change the world for good, and for God, one longing heart at a time.
Fortress Press, 9781506463230, 164pp.
Publication Date: August 10, 2021