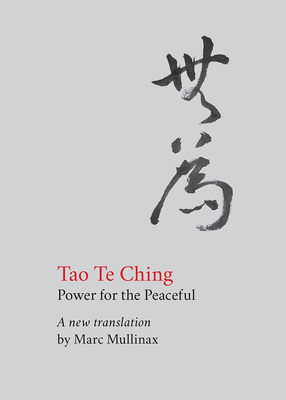 Tao te Ching
Power for the Peaceful
Paperback

* Individual store prices may vary.
Other Editions of This Title:
Paperback (2/21/2012)
Paperback (10/16/2020)
Paperback (8/6/2016)
Paperback (7/14/2011)
Paperback (12/28/2012)
Paperback (6/9/2013)
Paperback (4/3/2010)
Paperback (4/15/2003)
Paperback (5/16/2008)
Paperback (12/24/2008)
Paperback (6/29/2018)
Paperback (9/16/2011)
Paperback (1/1/2011)
Description
Although translations and interpretations of the Tao te Ching abound and new editions are released yearly, few accomplish the hard work of linking and bridging the Tao's profound message to the needs of modern readers. There may be a profusion of versions, but our lives and our world reflect little of the deep, transformative potential of this important text.
Marc S. Mullinax's new translation grows from extensive teaching experience and combines a deep understanding of the Tao's fourth-century BCE Chinese context with an exciting two-part application of that text to contemporary life.
First, each of the eighty-one verses is joined by a richly curated array of quotes, sayings, poems, and stories from wisdom traditions around the globe. With quotes ranging from Emerson to Pink Floyd, and from the apostle Paul to Margaret Atwood, the Tao's meaning comes alive in conversation with others.
Second, a brief reflection puts the verse in historical context and highlights the transformative power of Wu-Wei, the non-interfering action, perfectly timed, to promote peace and prevent injury, to bring joy and justice to a hurting world.
Praise For Tao te Ching: Power for the Peaceful…
[to come]
Fortress Press, 9781506469867, 340pp.
Publication Date: April 6, 2021
About the Author
Marc Mullinax lives in Asheville, North Carolina (USA), and teaches the academic study of religion at Mars Hill University. He studied written classical Chinese in Korea during his twenties, and maintains both this and the Korean language in his many recent residencies in Korea as a professor of East Asian spiritual traditions (Confucianism, Taoism, Buddhism, and shamanism) at Ewha Womans University in Seoul.