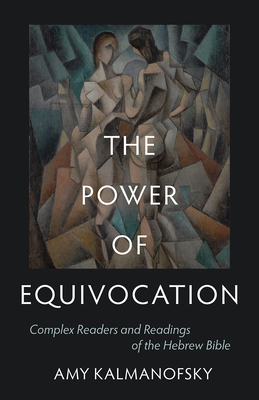 The Power of Equivocation
Complex Readers and Readings of the Hebrew Bible
Hardcover

* Individual store prices may vary.
Description
In The Power of Equivocation Amy Kalmanofsky addresses the Bible's inherent complexity as well as the complexity of those who seek to read the Bible critically, generously, and honestly.
The Bible invites what Kalmanofsky identifies as equivocal readings--readings that do not reach neat conclusions related to ideology or character. Kalmanofsky demonstrates the Bible's complicated artistry through her close readings of six biblical narratives that feature women: she examines culpability in the story of Joseph and Potiphar's wife and shows how the Bible presents neither figure as a hero or villain; considers how the Bible's portrayal of Hannah both conforms to and also defies the Bible's patriarchal norms; how the Bible affords the rejected King Saul compassion and respect through a powerful yet unlawful medium from En-Dor; how Queen Esther overpowers men to become the equivocal hero of her eponymous book; how Tamar in Genesis 38, like Hannah, conforms to and challenges the Bible's patriarchal norms and how, like Esther, she is the equivocal hero of her story; and how the Bible presents Bathsheba as a complicated figure, both vulnerable and powerful.
Kalmanofsky draws from the challenges she personally feels as a feminist, as a Jew, and as a scholar to argue that equivocal readers like herself are best equipped to see the Bible's complex artistry. Equivocal feminist-religious readers are suspicious and generous readers who can expose the ways in which biblical texts empower and disempower women and who can provide essential insight about the Bible's theology and ideology.
Through her close readings, Kalmanofsky models what it means to be equivocal readers of an equivocal Bible. The Power of Equivocation is marked by honesty and the celebration of a text that can never be read just one way.
Fortress Press, 9781506478715, 184pp.
Publication Date: September 20, 2022