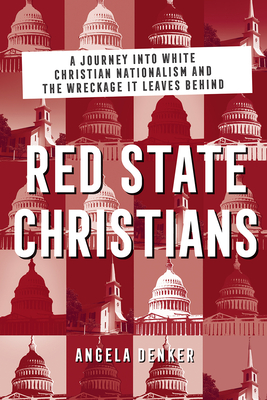 Red State Christians
A Journey into White Christian Nationalism and the Wreckage It Leaves Behind
Paperback

* Individual store prices may vary.
Description
Winner of a 2019 Foreword INDIES Award Silver Medal
In Red State Christians, readers will get an honest look at the Christians who gave the presidency to the unlikeliest candidate of all time. Veteran journalist Angela Denker spent a year traveling across the United States, interviewing the Evangelical Christian voters who supported the Trump presidency and exploring how their voting block continues to influence the landscape of modern conservative politics. From booming, wealthy Orange County megachurches to libertarian farmers in Missouri, to a church in Florida where the pastors carry guns, to an Evangelical Arab American church in Houston, to conservative Catholics on the East Coast--the picture Denker paints of them is enlightening, at times disturbing, but always empathetic.
In this expanded edition, Denker reflects on the lasting impact of the Trump presidency, the Christian white nationalism it emboldened, the 2020 election and transfer of power, and the subsequent insurrection at the United States Capitol. A must-read for those hoping to truly understand what Trumpism means for the 2020s and beyond.
Broadleaf Books, 9781506482507, 346pp.
Publication Date: August 16, 2022