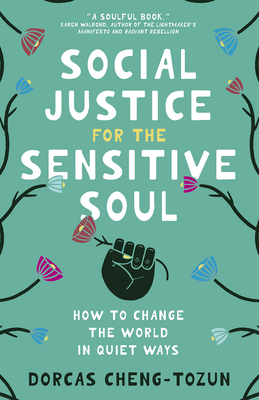 Social Justice for the Sensitive Soul
How to Change the World in Quiet Ways
Hardcover

* Individual store prices may vary.
Description
Social justice work, we often assume, is raised voices and raised fists. It requires leading, advocating, fighting, and organizing wherever it is required--in the streets, slums, villages, inner cities, halls of political power, and more. But what does social justice work look like for those of us who don't feel comfortable battling in the trenches?
Introverts--including those who consider themselves sensitive, empathic, or quiet--have much to contribute to bringing about a more just and equitable world. Such individuals are wise, thoughtful, and conscientious; they feel more deeply and see things that others don't. We need their contributions. Yet, sustaining justice work can be particularly challenging for the sensitive, and it requires a deep level of self-awareness, intentionality, and care.
In Social Justice for the Sensitive Soul, writer Dorcas Cheng-Tozun (Enneagram 4, INFJ, nonprofit/social enterprise professional, and multiple-burnout survivor) expands the possibilities of how to have a positive social impact, affirming the particular gifts and talents that sensitive souls offer to a hurting world. Alongside inspiring, real-life examples of highly sensitive world-changers--including creatives and administrators, engineers and academics in the US and around the world--Cheng-Tozun explores pathways where our quieter, but equally passionate, collaborators for social good can serve and thrive.
Broadleaf Books, 9781506483436
Publication Date: June 20, 2023