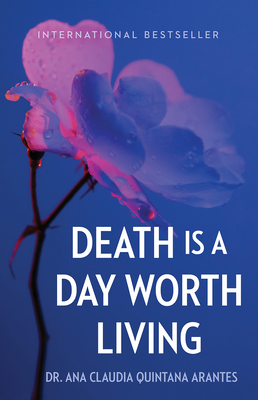 Death Is a Day Worth Living
Hardcover

* Individual store prices may vary.
Description
"Although many choose to live as if dead, all have the right to die alive. When my turn comes, I want my life to end in a good way: on that day, I want to be alive."
Dr. Ana Claudia Quintana Arantes's viral TED Talk on end-of-life care cemented her, a palliative care doctor in Brazil, as a global leader on living and dying well. Her international bestseller, Death Is a Day Worth Living, has been translated into eight languages and now is being offered in English for the first time.
Death Is a Day Worth Living touches a universal nerve, speaking to our most intimate moments and to the vital part of who we are as caregivers and loving family members. With her expertise, Dr. Quintana Arantes courageously takes on a subject that continues to be taboo, offering nothing short of a revolutionary way to reconsider the act of dying. We must care for each other, our loved ones, and patients in profound ways, even when there is no longer the possibility of cure.
"It is only through awareness of death that we hasten to build the being that we ought to be," writes Dr. Quintana Arantes as she conveys a powerful sense that we need to--and can--do more to ensure that everyone has a well-managed and lovingly supported death, and that to do so is a celebration of their life and humanity, and those of their caretakers.
Broadleaf Books, 9781506487724
Publication Date: March 14, 2023