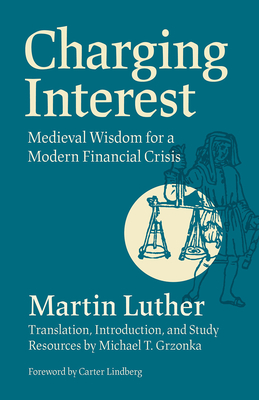 Charging Interest
Medieval Wisdom for a Modern Financial Crisis
Paperback

* Individual store prices may vary.
Description
Charging Interest explores current exploitative financial practices through the lens of Martin Luther's explosive treatise called ""Exhortation to the Clergy to Preach Against Usury."" Written in 1540 and translated anew by Michael T. Grzonka, this treatise tackles the growing problem of usury (money lending) in Luther's time and context. Wittenberg authorities claimed powerlessness in the face of poverty, famine, egregious hoarding, and price-gouging. Luther urged pastors to confront lenders who were charging exploitive interest rates, dooming many to a life of continual poverty and starvation.
Luther went so far as to ask exploitive lenders to repent of their practices, and if they refused to excommunicate them from worship, from participating in the sacraments, and refuse to provide burial services. Clergy who did not condemn these practices would risk facing God's judgment.
Michael Grzonka provides a detailed introduction and new translation of Luther's treatise as well as reflections on faithful and ethical responses to unfair financial practices in our own day. A detailed study guide raises key questions for review and helps readers reflect on how Luther's text still may address issues in the contemporary world. Renowned historian and Reformation scholar Carter Lindberg provides a forward to this topic, which Martin Luther addressed on more than one occasion.
Fortress Press, 9781506488462, 132pp.
Publication Date: March 28, 2023