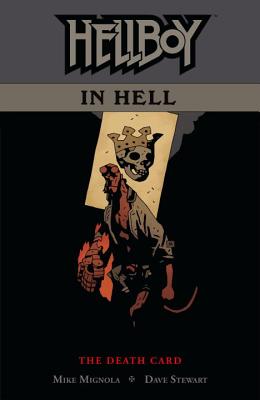 Hellboy in Hell Volume 2: The Death Card (Paperback)
The Death Card
Dark Horse Books, 9781506701134, 96pp.
Publication Date: October 18, 2016
Description
After facing off for a second time against the Vampire of Prague, Hellboy, dead and in Hell, comes down with a fatal illness, and seeks the help of an incompetent team of doctors. As he explores the geography of Hell, learning little from a confused pair of map makers, Hellboy gets a glimpse of the new World Tree that he helped to create, stands accused of murder by his own sister and, in a way, brings about the destruction of Pandemonium itself. Praise for the first volume of Hellboy In Hell: ..". Mignola's simple but elegant panel design should be studied by everyone who is or who wants to be a cartoonist. The script is a delight, too, as Hellboy's down-to-earth anger and everyman astonishment remains funny and refreshing." -Publishers Weekly "The master of modern horror comics." -IGN "Mike Mignola and Dave Stewart work magic on those pages." -Multiversity
About the Author
Mike Mignola was born in 1960 in Berkeley, California and grew up in nearby Oakland, the eldest son of a tough and leathery cabinetmaker. His fascination with ghosts and monsters began at an early age (he doesn't remember why) and reading Dracula at age 12 introduced him to Victorian literature and folklore from which he has never recovered. Besides comic books, Mike worked on Francis Ford Coppola's film Bram Stoker's Dracula (1992), as a production designer for the Disney film Atlantis: The Lost Empire (2001) and was the Visual Consultant to director Guillermo del Toro on Blade II (2002), Hellboy (2004), and Hellboy 2: The Golden Army (2008). Mike lives somewhere in Southern California with his wife, daughter and cat.
Advertisement