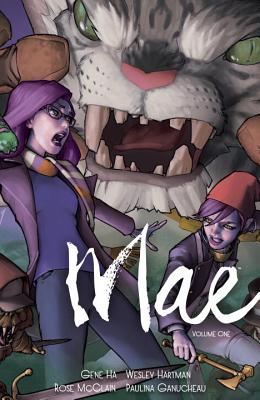 Mae Volume 1 (Paperback)
Dark Horse Books, 9781506701462, 136pp.
Publication Date: February 7, 2017
Description
When she was just a girl, Abbie discovered a portal to fantasy world and for the last couple of years has been having great adventures there: defeating horrible monsters, power-mad scientists, and evil nobles. But by the time she turned twenty-one it all came apart and she decided to return home. Her sister, Mae, has had no idea what happened to Abbie after all this time. Her tales are too hard to believe--that is, until the monsters and other terrible creatures start to cross over to our world... Collects the first six issues of the fantastical all-ages series, in the 6" x 9" format Praise for the first issue of Mae
"I highly recommend checking this out, as it is not only fantastical but also... Fantastic, Five out of Five Stars."
-Comic Crusaders
About the Author
Gene Ha has worked since 1992 on books like Fables, Justice League, Cyclops & Phoenix, and Oktane. He won three Eisner awards for his collaboration with Alan Moore on Top 10 and one Eisner with Brad Meltzer for JLA #11. He lives outside Chicago in Berwyn, IL with his wife Lisa and their rescue dog Fina. The author lives in Berwyn, IL.
Advertisement