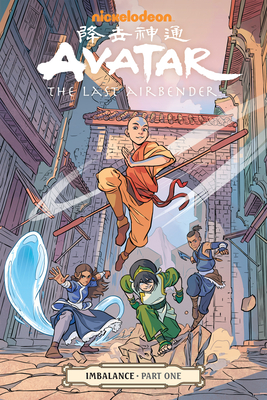 Avatar (Paperback)
The Last Airbender-Imbalance Part One
Dark Horse Books, 9781506704890, 80pp.
Publication Date: December 18, 2018
Other Editions of This Title:
Hardcover (6/16/2020)
Paperback (10/1/2019)
Paperback (5/14/2019)
* Individual store prices may vary.
Description
The official continuation of Airbender from its creators, Michael Dante DiMartino and Bryan Konietzko!

Written by Faith Erin Hicks (The Adventures of Superhero Girl, The Nameless City) and drawn by Peter Wartman (Stonebreaker), in collaboration with Avatar: The Last Airbender creators Michael Dante DiMartino and Bryan Konietzko, this is the ultimate continuation of Avatar!

When Aang, Katara, Sokka, and Toph return to Earthen Fire Industries--the factory owned by Toph's father--Team Avatar finds that the once small town is now booming. Expecting a warm welcome, Aang is surprised when their arrival is met with unimpressed, cold-shouldered spectators. As soon as the team is asked for help at a business council meeting, the reason for the slight becomes clear--a massive bender versus non-bender conflict has gripped the town and is threatening to turn violent.
About the Author
Faith Erin Hicks is a Canadian writer and artist. She worked in the animation industry for several years before transitioning into writing and drawing comics full time in 2008. She started making comics "for fun" and putting them on the web when she was in college. Her first published work was Zombies Calling (SLG Publishing) in 2007. Since then, she has published a number of other graphic novels, including The War at Ellsmere (SLG), Brain Camp (with Susan Kim and Laurence Klavan, First Second Books), Friends with Boys (First Second Books), Nothing Can Possibly Go Wrong (with Prudence Shen, First Second Books), The Adventures of Superhero Girl (Dark Horse Comics), The Last of Us: American Dreams (with Neil Druckmann, Dark Horse Comics), and the Bigfoot Boy series (with J. Torres, Kids Can Press). She won an Eisner Award in 2014 for The Adventures of Superhero Girl.

Faith currently lives in Vancouver, BC with her partner, Tim, and their helpful cat. Her current project is The Nameless City, a three book series with First Second Books.