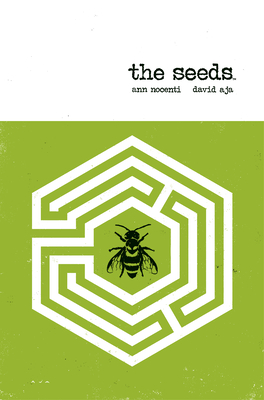 The Seeds (Paperback)
Berger Books, 9781506705880, 128pp.
Publication Date: September 15, 2020
* Individual store prices may vary.
Description
Award-winning artist David Aja (Hawkeye, Immortal Iron Fist) and filmmaker, journalist, and comics writer Ann Nocenti (Daredevil, Catwoman) team up to tell an eco-fiction tech-thriller where flora and fauna have begun to mutate. The Seeds is also a story of love beyond race and gender, and of the resilience of both human and animal kind.

The bees are swarming. What do they know that we don't?

The rich have built walls around their wealth and scramble into escape rockets. The romantic and the ruthless cross over into the lawless wilds of Zone-B. A few cantankerous aliens have come to collect the last dregs of humanity's essence for the celestial embryo bank. One of them falls in love.

Astra is an idealistic journalist who stumbles into the story of a lifetime, only to realize that if she reports it, she'll destroy the last hope of a dying world. How far will she go to get her story?
About the Author
David Aja (1977) is a Spanish comic book creator and illustrator, best known for his work on The Immortal Iron Fist and Hawkeye for Marvel comics.

He earned a five-year degree in Fine Arts (Design and Audiovisuals specialty). He has worked as an illustrator in press, magazines, books, design, publicity..., on many other series for Marvel such as Daredevil or Wolverine and he has produced covers for several titles across all major publishers.

He has won Eisner, Eagle, and Harvey Awards for his work.