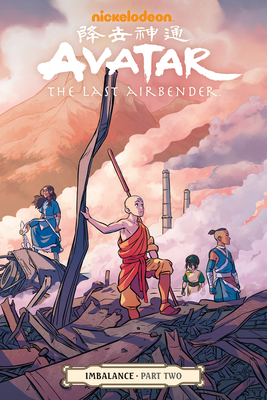 Avatar (Paperback)
The Last Airbender--Imbalance Part Two
Dark Horse Books, 9781506706528, 80pp.
Publication Date: May 14, 2019
Other Editions of This Title:
Hardcover (6/16/2020)
Paperback (10/1/2019)
Paperback (12/18/2018)
* Individual store prices may vary.
Description
Aang and Team Avatar race to resolve rising tensions between benders and non-benders before a town is torn apart!

There's something fishy going on in Cranefish Town, and it's up to Aang, Katara, Sokka, and Toph to find out what, before the simmering conflict between benders and non-benders boils over into all-out war. But danger lurks where they least expect it, and uncovering the truth will reveal a threat unlike any they've ever faced--and a fateful choice for Aang he can never unmake!

Written by Faith Erin Hicks (The Adventures of Superhero Girl, The Nameless City) and drawn by Peter Wartman (Stonebreaker), in collaboration with Avatar: The Last Airbender creators Michael Dante DiMartino and Bryan Konietzko, this is the ultimate continuation of Avatar!
About the Author
Faith Erin Hicks is a Canadian writer and artist. She worked in the animation industry for several years before transitioning into writing and drawing comics full time in 2008. She started making comics "for fun" and putting them on the web when she was in college. Her first published work was Zombies Calling (SLG Publishing) in 2007. Since then, she has published a number of other graphic novels, including The War at Ellsmere (SLG), Brain Camp (with Susan Kim and Laurence Klavan, First Second Books), Friends with Boys (First Second Books), Nothing Can Possibly Go Wrong (with Prudence Shen, First Second Books), The Adventures of Superhero Girl (Dark Horse Comics), The Last of Us: American Dreams (with Neil Druckmann, Dark Horse Comics), and the Bigfoot Boy series (with J. Torres, Kids Can Press). She won an Eisner Award in 2014 for The Adventures of Superhero Girl.

Faith currently lives in Vancouver, Canada, with her partner, Tim, and their helpful cat. Her current project is The Nameless City, a three-book series with First Second Books.