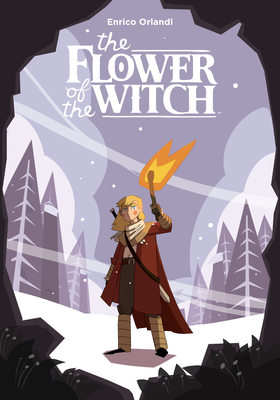 The Flower of the Witch
Paperback

* Individual store prices may vary.
Description
Tami has traveled long and far from his home in the south, forbidden to return until he has become a man, in this coming-of-age story.

Defeating monsters and saving princesses has not been enough, and now he must find the fabled flower of the witch, but in his quest Tami inadvertently sparks a feud between the villagers who shelter him and the demon Yabra! And when the conflict comes to a head, Tami will have to choose between proving himself as a man, and protecting the villagers he's come to love.

Available for the first time in English, Enrico Orlandi's exciting tale of adventure and compassion is a timely reflection on identity, responsibility, and the true meaning of maturity.

"My intention when I created Tami and the world of Il fiore della strega, was to tell a fantastic story that would capture the reader's imagination and inspire them to lose themselves in the cold forests of the far north, to feel the icy gaze of the spirits and the warmth of the hearths in each tent. Tami's journey, his difficulties and mistakes, are in essence what every child must face as they grow into adulthood. To those who read this book, I would like to say that a girl can go on adventures, that a boy can cry if he needs to, that there is no right way to grow up. You just have to take the time to understand who you want to be." -- Enrico Orlandi
Dark Horse Books, 9781506716428, 112pp.
Publication Date: September 29, 2020
About the Author
Enrico Orlandi is a freelance comic artist and illustrator. Born in Cesena in 1991. Graduated at Academy of Fine Arts in Bologna (Comics & Illustration) in 2015. "The Flower of the Witch" is his first graphic novel.