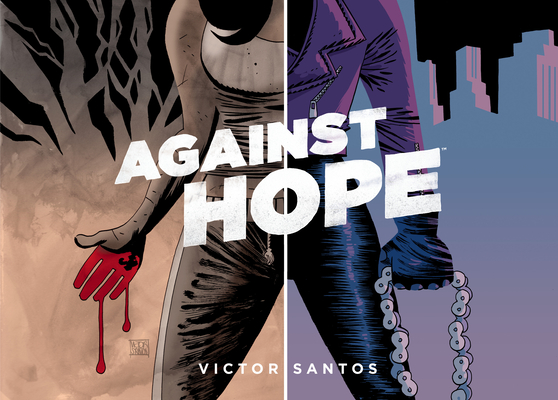 Against Hope
Hardcover

* Individual store prices may vary.
Description
It has been years since an insane family of neo-Nazi's murdered her boyfriend and almost killed Hope -- now she is tracking them down and exacting her bloody revenge.

Raised by a martial arts master, Hope grew from an angry and grieving teenage girl into a cold-hearted bounty hunter. When she discovers the family who brutalized her is now running for public office and controlling a cabal of violent white nationalists from the shadows, Hope gears up and hits the road with the intent to slaughter every single Nazi that gets in her way.

Victor Santos (Polar - now a hit Netflix movie) writes and draws a new story with brutal fight scenes and impactful revelations that echo across decades of the main character's life.
Dark Horse Books, 9781506717968, 176pp.
Publication Date: June 16, 2020
About the Author
Victor Santos, born in Valencia, began his career in 1998 by contributing to fanzines and local papers. His first professional work was 'Gaijin', published from 2000 by 7 Monos, Dude Comics and Dolmen Editorial. He also took on the heroic fantasy series 'Los Reyes Elfos', and an anthology of short stories called 'La Doncella y los Lobos'. Santos has cooperated on the 'Pulp Heroes' saga at Astiberri, did the superhero comic 'Protector' (Dolmen), a juvenile comic called 'Aventuras en el Mundo Jung' (Aleta Ediciones), and fantasy titles like 'Faeric Gangs' (Astiberri) and 'Lone in Heaven' (Aleta). For the French publisher Soleil, he created the series 'Young Ronin', for which he does script, art and colors.