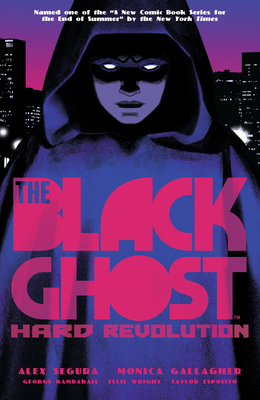 The Black Ghost
Paperback

* Individual store prices may vary.
Description
From Alex Segura (Silent City) and Monica Gallagher comes a new original graphic novel about corruption and justice.

Meet Lara Dominguez--a troubled Creighton cops reporter obsessed with the city's debonair vigilante--the Black Ghost. With the help of a mysterious cyber-informant named LONE, Lara's inched closer to uncovering the Ghost's identity. But as she searched for the breakthrough story she desperately needs, Lara will have to navigate the corruption of her city, the uncertainties of virtue, and her own personal demons. Will she have the strength to be part of the solution--or will she become the problem?

Collects Black Ghost series one, #1-#5 in print for the first time.
Dark Horse Books, 9781506724461, 136pp.
Publication Date: May 4, 2021
About the Author
Monica Gallagher is a writer and illustrator with over fifteen years experience making comics with a positive, feminist spin. She has worked for Oni Press, Vertigo, Papercutz, and Valiant, and as well as self-published several of her own mini-comics and books. Currently, Monica has two series comics on Webtoons -- Assassin Roommate (which won a Ringo award in 2018 for Best Hero!), and BOO! It's Sex with Danielle Corsetto. She also co-wrote the first season of the iHeart Radio's Lethal Lit, (mentioned by the New York Times as "A Great Podcast of 2018"!) and Comixology's The Black Ghost series with Alex Segura. Her most recently published book, Part-Time Princesses, was released by Oni Press and featured on YALSA's The Hub Blog in their "Women In Comics: Princesses With a Twist" article. Monica has also kickstarted and self-published the collected Volume #1 of her webcomics series Bonnie N. Collide, Nine to Five (which was recently reviewed by NPR Books!). In 2013, Monica started up Bmore Into Comics, a series of small, one-day shows featuring comics creators exhibiting their work in local businesses throughout Baltimore, with the goal of getting more people interested in and reading comics.


Alex Segura is an acclaimed, award-winning writer of novels, comic books, short stories, and podcasts. He is the author of the upcoming noir novel, Secret Identity (Flatiron Books), Star Wars Poe Dameron: Free Fall, and the Pete Fernandez Mystery series (including the Anthony Award-nominated crime novels Dangerous Ends, Blackout, and Miami Midnight). His short story "Red Zone" won the 2020 Anthony Award for Best Short Story, and his border noir short story, "90 Miles" will be included in The Best American Mystery and Suspense 2021. "90 Miles" also won the Best Short Story Anthony Award for 2021. Alex has also written a number of comic books, most notably the superhero noir The Black Ghost, the YA music series The Archies, and the "Archie Meets" collection of crossovers, featuring real-life cameos from the Ramones, B-52s, the upcoming all-ages superhero adventure The Dusk, and more. He is also the co-creator/co-writer of the Lethal Lit crime/YA podcast from iHeart Radio, which was named one of the best podcasts of 2018 by The New York Times. By day he is the Senior Vice President of Sales and Marketing at Oni Press, with previous stints at Archie Comics and DC Comics. A Miami native, he lives in New York with his wife and children.