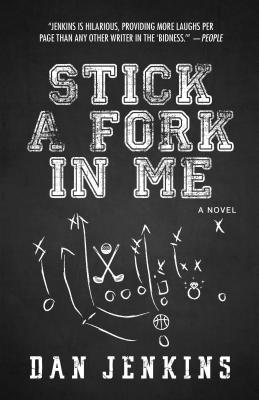 Stick a Fork in Me (Hardcover)
Gallery Books, 9781507201473, 224pp.
Publication Date: January 1, 2017
Description
A rollicking, no-holds-barred tour of the world of big-time college sports from "the best sportswriter in America" (Larry King). Pete Wallace, a good old boy from Texas, paid his dues coaching football on obscure campuses in the boondocks of America until he landed the athletic director's job at Western Ohio University. For 15 years, he has steadily and skillfully guided the school into the high society of major college sports. But now Pete, fed up with politically correct campus culture and babysitting fragile egos, is retiring from the "arms race." As he waits for the university's board of trustees to act on his early retirement package, he reflects on his career, the people he's come across, and what life will be like in retirement. Pete's story is told in Jenkins's unmistakable, raucous, old-school style, and it's full of colorful, absurd, and downright crazy characters--from clueless trustees and busybody protestors to prima donna football coaches and booster club pests. Stick a Fork in Me shows that Jenkins is "hilarious, providing more laughs per page than any other writer in the 'bidness'" (People).
About the Author
Dan Jenkins is an award-winning sportswriters and a bestselling novelist. After 15 years of writing for newspapers in Fort Worth and Dallas, he became nationally known for his stories in Sports Illustrated for more than a quarter century, and since then for his articles in Golf Digest. Three of his bestselling novels--Semi-Tough, Dead Solid Perfect, and Baja Oklahoma--were made into movies. Dan is one of only three writers to be inducted into the World Golf Hall of Fame; he has received the PEN Lifetime Achievement Award for Literary Sportswriting; and the Associated Press Sports Editors named him the 33rd recipient of the Red Smith Award, the highest honor in his profession. Dan and his wife June live in Texas.
Advertisement