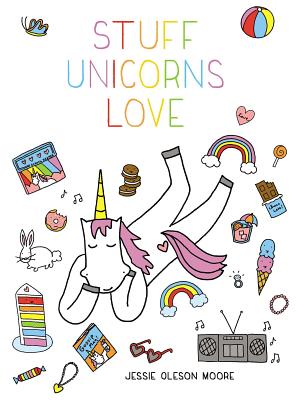 Stuff Unicorns Love (Hardcover)
Adams Media, 9781507205693, 144pp.
Publication Date: December 12, 2017
* Individual store prices may vary.
Description
A whimsical, humorous imagining of what unicorns really think and what they truly love—including recipes for unicorn food, crafts, and the history of these mythical creatures.

Glitter. Sparkles. Rainbows and shimmering manes. Sure, unicorns are magical, and their reputations have taken the world by storm, but how much do we know about what unicorns really think? What's their favorite cookie? What about their favorite color? Would they really drink that pastel milkshake you found on Pinterest?

They sure would!

In Stuff Unicorns Love, you'll get a guided tour of unicorns' most treasured things straight from a unicorn's mouth—from food recipes and crafts to beauty tips and their favorite activities.

Learn the truth about these adorable (and painfully honest) creatures, as well as the facts behind their origins. With illustrations and tons of fascinating unicorn facts throughout, this is a perfect gift for unicorn lovers of all ages.
About the Author
Jessie Oleson Moore is a writer, cook, and illustrator. No, that's not indecision: it's a unique mix of talents that comes together in a magical and engaging form. She is the creator of CakeSpy.com, a popular dessert and baked goods related website set up as an online "dessert detective agency" dedicated to seeking sweetness in everyday life. CakeSpy has been featured in The New York Times, Saveur, Sunset Magazine, Food & Wine, Bon Appetit, O, The Oprah Magazine, and The Boston Globe. She is the author of two cookbooks and two coloring books, including CakeSpy Presents Sweet Treats for a Sugar-Filled Life, Unicorn Coloring Book, and Another Unicorn Coloring Book. In addition to running CakeSpy, Jessie has also written and illustrated for Serious Eats, Craftsy.com, Peanut Butter and Company, Pillsbury, The Wisconsin Butter Board, DailyCandy.com, Saveur, Taste of Home, and Microsoft. Stuff Unicorns Love is her most recent book.
Praise For Stuff Unicorns Love…
"Our society is a bit unicorn obsessed at the moment. But have you ever stopped and wondered what unicorns themselves love? This book contains a unicorn's favorite recipes, beauty tips, favorite things, and more. What we're saying is the unicorn-obsessed person in your life NEEDS it."



"Cleanse that palate—and your brain—while Jessie Oleson Moore drops some unicorn knowledge on you. Enough sly humor to keep you turning through pages of basic facts, recipes, and "unicorn-y jokes." Stuff Unicorns Love is a comprehensive unicorn encyclopedia. If you want to attract unicorns or embrace the unicorn mindset in your own life, this book has the answers. Oleson Moore is a talent, who pulls off a pretty great feat with this one: engaging both a third-grader who loves glitter and tired 44-year-old who does not."

"This delightfully fun read is perfect for younger readers as well as anyone who is young at heart, and wants to enjoy a bit of whimsy in their day. Stuff Unicorns Love is an adorable read that shares fun fictional facts about unicorns that will make you smile alongside perfect illustrations. The perfect way to add a bit of fun to your day. I can't recommend it enough to anyone looking for a perfectly cute read."

"This comprehensive look at a wide range of things that interest unicorns is filled with everything tweens love--cartoon illustrations, bright colors, and lots of rainbows. A great handbook for friends to pore over on a rainy day and use to inform their own illustrations. A light hearted and entertaining romp through all the sugary sweet sparkly goodness that makes unicorns 'tick.' Unicorn hoodie optional while reading this, but highly encouraged!"

"Even as an adult, I loved this book!"