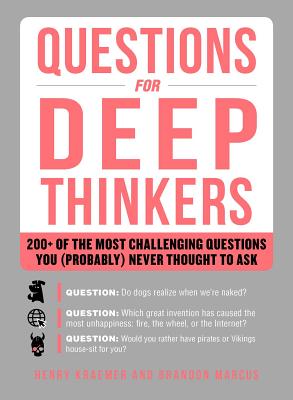 Questions for Deep Thinkers
200+ of the Most Challenging Questions You (Probably) Never Thought to Ask
Paperback

* Individual store prices may vary.
Description
Blending philosophy and humor, here are 250 thought-provoking, challenging, and strange questions—from the profound "what is the meaning of life?" to the playful "is a hotdog a sandwich?" and everything in between.

Life is complex, confusing, and weird. But have you ever stopped to think about just how weird the world around you can be?

For example:
Which invention has caused the most unhappiness: fire, the wheel, or the internet?
If a werewolf landed on the moon, would it touch down as a man or a wolf?
When sitting at a movie theater, which armrest is yours?
What's the most untrustworthy animal?
Would you rather kiss a person with jellybeans for teeth or a banana for a tongue?

In Questions for Deep Thinkers, you'll find 250 thought-provoking, challenging, and sometimes completely ridiculous questions that you (probably) never thought to even ask. Perfect for large group parties, hanging out with friends, or if you just want a moment to ponder some of life's absurdities, this collection of head-scratching "deep questions" will leave you either in an argument or saying, "hmm, I never thought of that…"

Don't let the world's most pressing mysteries pass you by!
Praise For Questions for Deep Thinkers: 200+ of the Most Challenging Questions You (Probably) Never Thought to Ask…
"We ask these questions all the time. Honestly, this sounds like the perfect book to keep in your bunker. It should be in everybody's go bag."
— Bunker Buddies Podcast

"Take anywhere to break the ice … .I can only believe this book was written by my future best friends. This book is not only asking questions that make YOU think, it's asking questions that'll encourage conversations with your friends as well. This book is seriously cool, and I would recommend it to anyone who likes to think outside of the box."
— That's Normal

"Questions for Deep Thinkers has questions for anyone you might know and is perfect for parties, passing the time while hanging out with friends, connecting with co-workers, or even getting your kids to spend some time doing a bit of critical thinking."
— Nerdy Girl Express
Adams Media, 9781507207123, 256pp.
Publication Date: March 6, 2018
About the Author
Henry Kraemer is a voting rights activist, community organizer, political prankster, podcast host, and overzealous dog dad. His serious activism (he helped mastermind the successful campaign for America's first automatic voter registration law) has been covered by the Nation, NPR, and The Washington Spectator. Meanwhile, his trolling SuperPAC, Americans Against Insecure Billionaires with Tiny Hands somehow captured the attention of Time, USA TODAY, CBS News, The Atlantic, The Guardian, New York magazine, ABC News, and several dozen other papers of record. He fears it will be included on his tombstone.

Brandon Marcus is a spirited pop culture aficionado whose writing has appeared on several sites including Fandom.com, CHUD.com, NerdBastards.com, and VeryAware.com. He has been soaking in all things movie, TV and music from a young age. He also spends his time complaining about politics, reading comics, and hopelessly rooting on his Los Angeles Lakers.
or
Not Currently Available for Direct Purchase