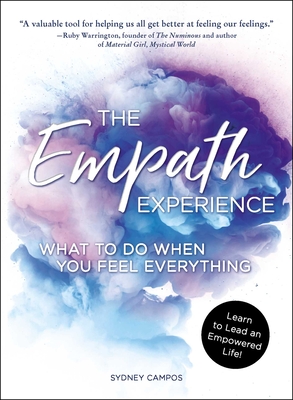 The Empath Experience (Paperback)
What to Do When You Feel Everything
Adams Media, 9781507207161, 224pp.
Publication Date: May 1, 2018
Other Editions of This Title:
Digital Audiobook (2/18/2019)
Compact Disc (2/19/2019)
* Individual store prices may vary.
Description
Learn to lead an empowered life with this supportive and positive guide for those who are discovering their empath abilities and looking for information to help in understanding their gift, as well as how to embrace it and thrive in everyday life.

Maybe you find that being in a public place is totally overwhelming. Maybe you've noticed that your friends, loved ones, and even acquaintances tend to unload all of their problems on you, looking for advice on what to do. And maybe you can pick up on a person's energy so closely you begin to feel their emotions. All of this indicates that you might be an empath—someone who has the ability to feel the emotions and energy of other people. Being a highly sensitive person may seem like a burden at times, but doesn't have to be. Being an empath is a gift that you can use to your advantage.

In The Empath Experience, you'll find detailed information on what it means to be an empath and the different ways this gift can influence your life in positive ways. In addition, you'll find supportive advice from a fellow empath on how to embrace the positive aspects of this special talent, get in touch with and understand your emotions, and tips and techniques to help you feel your best—even when someone else may be feeling their worst.
About the Author
Sydney Campos is a transformational coach, intuitive advisor, and speaker. Sydney specializes in activating visionary leaders to live in alignment with their soul purpose while embodying next-level power, pleasure, and prosperity. Through all her endeavors, Sydney is fiercely committed to awakening consciousness across the planet and creating new paradigms of well-being and interconnectedness. In addition to being a seasoned business strategist and certified holistic health coach, Sydney is also a 200-hour registered yoga and meditation teacher, reiki energy healer, and certified akashic records practitioner. Sydney shares her multifaceted teachings through writing, her Visionary Souls Podcast, teaching, international retreats, and 1:1 mentoring. An avid adventurer, Sydney is likely to be found in Bali, Venice Beach, San Francisco, New York, or anywhere in Mediterranean Europe. Sydney has been featured in Forbes, MindBodyGreen, and New York magazine.
Praise For The Empath Experience: What to Do When You Feel Everything…
"A valuable tool for helping us all get better at feeling our feelings."
— Ruby Warrington

"Sydney Campos expertly describes and embodies the experience of living life as a fully empowered empath. When it comes to this topic, there couldn't be a better person to learn from than Sydney. Her personal story shines through as a deeply healing, transformative journey into the depths of darkness that guided her to the light of living from her soul and intuition. Sydney empowers you to shine the light on your shadow to live your most powerful, joyous life. Her story, which is really a guidebook in mastery, not only contains practical tools to support you in living a beautiful life but will also awaken so many souls to living their truth and expressing their unique gifts."
— Preston Smiles

"The Empath Experience is a must-read for anyone awakening to their psychic sensitivity, heightened emotional and energetic awareness, and capacity for intuitive mastery. Sydney's personal story, as well as the comprehensive guidebook entailed throughout, serves as a powerful support with practical tools and applications for living your most empowered, joyful, loving life. Sydney is not only extremely relatable; she expertly shares profoundly activating experience and anecdotes that will surely serve to awaken your soul to your own deepest embodiment of truth."
— Atherton Drenth

"The Empath Experience is a powerful book that will help you awaken your intuitive superpowers while living a life beyond your wildest dreams. Sydney Campos's comprehensive guide and transformative wisdom will inspire you to uncover and transmute old conditioning and step into your power."
— Kute Blackson

"Learn to lead an empowered life with this supportive and positive guide for those who are discovering their empath abilities … There is also supportive advice on how to embrace the positive aspects of this special talent, get in touch with and understand your emotions, and tips and techniques to help you feel your best — even when someone else may be feeling their worst."
— Elevated Existence