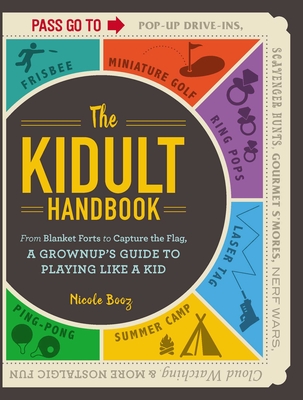 The Kidult Handbook
From Blanket Forts to Capture the Flag, a Grownup's Guide to Playing Like a Kid
Paperback

* Individual store prices may vary.
Description
Adulting is hard! But "kidulting"— engaging in nostalgic childhood activities to relieve stress, like playing with your old favorite toys, participating in games and activities from your youth, and even snacking on the foods you enjoyed as a kid— isn't. Let this book be your guide to indulging your inner child.

"Kidulting" is a thing, and it's growing! Especially popular among millennials, the term "kidulting" refers to engaging in activities from your childhood, sometimes with a grown-up twist. Psychology Today points out that playing like a kid helps you look at the world with fresh eyes—or "beginner's mind"—which allows you to slow down and focus.

The Kidult Handbook is a fun and informative guide to healthy escapism through play. Much like adult coloring books, kidulting is a way of focusing your mind on something fun and creative to relieve stress. But this book goes way beyond just coloring—it includes 160 ideas for fun, from timeless classics like building blanket and pillow forts, to generation-specific ideas, from millennials to boomers. Interspersed throughout are fun facts and trivia about games through the ages. Most activities are unplugged and screen-free, and range from solitary pursuits to ones you can share with a friend or two. Feeling young again has never been so easy!
Praise For The Kidult Handbook: From Blanket Forts to Capture the Flag, a Grownup's Guide to Playing Like a Kid…
"Give mom the gift of feeling like her childhood self with The Kidult Handbook. This book is best paired with … the tools to build her own fort with some battery candles and calming music (and time to enjoy them!)."
— GeekMom

"I can't put it down. It's super interesting. It's a reminder to muck around now and again. Just because we're grownups … we can remember the simple silly things that made us happy."
— Social Dad

"Nicole Booz shares 160 ways to embrace your inner child and let your adult worries drift away … .You can find the perfect activity to help you relax just by flipping through this fun read. Flip through the pages whenever you are in the mood to indulge your inner child."
— The Nerdy Girl Express

"The perfect book to pull out on a boring day. Not only does this book take me back to my childhood, but it also gives me ways to connect with my daughter. It gives me plenty of ideas to bring fun back into day-to-day life. I would also recommend it to teens who are bored and it could be a welcomed break from technology."
— YA Books Central
Adams Media, 9781507207581, 192pp.
Publication Date: May 15, 2018
About the Author
Nicole Booz is the Editor-in-Chief of the online magazine GenTwenty, the twentysomething's guide to life. After graduating from the University of Maryland with BS in Psychology and a minor in Human Development, she moved to Seattle where she currently lives with her husband. When she's not reading or writing, she's probably hiking, eating brunch, or planning her next great adventure.