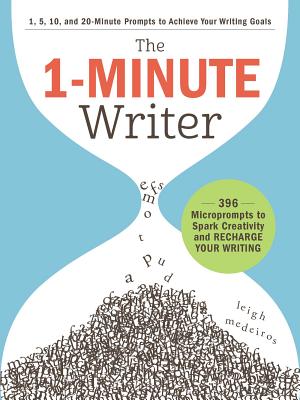 The 1-Minute Writer
396 Microprompts to Spark Creativity and Recharge Your Writing
Paperback

* Individual store prices may vary.
Description
One minute of daily writing is better than twenty minutes every two weeks—let this fun and helpful handbook of quick, easy writing prompts show you why short bursts of writing are essential to flexing your creative muscles to create your best work!

Are you a "would-be" writer? That is, someone who wants to write, but finds themselves too busy, too tired, or just uninspired. The 1-Minute Writer has the solution to all of those problems and shows you that you can start writing—and keep the creativity going—every day, no matter how little time you have.

The 1-Minute Writer includes writing prompts you can complete while standing in line for coffee, riding the subway home after work, waiting for your kid at the dentist—and everywhere in between. Each prompt has four variations: a one-minute prompt, a five-minute prompt, a ten-minute prompt, and a twenty-minute prompt. You can choose prompts based on both the time you have available and the kind of writing you'd like to do. Watch the words pour out of you when you realize just how easy writing is when you tackle it in manageable chunks!

There are a lot of writing books out there—maybe you've tried some before—but none quite like The 1-Minute Writer. Let these brief prompts encourage and empower you to become the writer you've always known you are!
Praise For The 1-Minute Writer: 396 Microprompts to Spark Creativity and Recharge Your Writing…
"Creative writing forces us to engage our imaginations—our capacity for wonder and spirit of invention. But it's also a discipline: a task for which we have to make time, push aside distractions, and trust that our brains are up to a challenge. With a breezy, encouraging, utterly approachable style, Leigh Medeiros eases your mind into creativity with fun and thought-provoking exercises, each meant to help you with writing's most difficult step: starting."
— Stephen Thompson, editor and reviewer for NPR Music

"If I'd had The 1-Minute Writer when I'd started out, I bet there'd be a lot more words in my books!"
— James Yang, author and illustrator of The New York Times Standout New Picture Book Bus! Stop

"The author's prompts feel more like play than practice. They are joyful, creative, and approachable. Medeiros brings her infectious positive energy and encouragement—which I've had the pleasure of experiencing in her 48 Days of Creative Devotion program—to The 1-Minute Writer. It's a road map to a daily writing practice, a remedy for bouts of writer's block, and delightful way to build and stretch those writing muscles. I can't wait to share this book with students in my writing workshops."
— Anika Denise, author of Lights, Camera, Carmen! and Planting Stories: The Life of Librarian and Storyteller Pura Belpré

"It's difficult to do anything from a dead start. You need momentum, something you can build from, and that's precisely what this book provides: a creative wind in your sail."
— Chris Sparling, screenwriter of Buried and The Sea of Trees

"One of the most significant takeaways from my years of helping children unleash their inner playwrights is the notion that our innate ability to write is just below the surface—all that we need is to be provided with triggers that nurture that ability. The thoughtfully crafted and utterly accessible prompts found in the excellent The 1-Minute Writer, whether inspired by the everyday around us, gleaned from our wiliest imaginations, or harvested from our own personal histories, do just that—and help unleash our own omnipresent inner writers."
— Jenny Peek, founder and former executive artistic director of The Manton Avenue Project

"At last! A gift to educators everywhere—a book that supports teachers in all disciplines to integrate writing as an everyday practice. Organized by theme and cataloged by number of minutes, this delightful and accessible text is essential for all classroom teachers. Medeiros provides a plethora of prompts that fuel the imagination while establishing important writing structures. Planning for writing made easy and enjoyable!"
— Uzma Hossain, educational consultant at Teachers College, Columbia University

"Somehow Leigh Medeiros manages to pull off a seemingly impossible paradoxical feat with this must-have book: she manages to get us out of our brains and into our imaginations. This book is like a Choose Your Own Adventure for grownups who want to write their own endings—396 of them to be exact! These prompts are a godsend for anyone who loves words: playful, ingenious flints that will surely spark even the most hesitant writer to fiery prose. Hot metaphors aside, if you're anything like me and find yourself creating more excuses not to write than creating actual sentences you're proud of, I guarantee this book will leave you feeling warm, inspired, and—most remarkably—accomplished. No longer will we look at time spent standing in a checkout line or riding a bus as "wasted"; you will relish every opportunity to dive into another thoughtful prompt. I only wish The 1-Minute Writer had been around decades ago to vanquish my inner procrastinator and catalyze my creative impulses. I can't wait to pull this book of clever what-ifs off the shelf for many years to come, whenever the well of creativity runs dry or the rust on my wrist sets in."
— Paul Walling, actor and writer

"Creating a daily writing habit can be as simple as learning to write one minute per day. In Leigh Medeiros' The 1-Minute Writer, you'll find nearly 400 writing prompts that can be completed in one minute's time."


— Bustle

"Playful, practical and inventive...you'll find interesting, simple creativity-booksting writing prompts. So savor that minute, and create away."
— Psych Central

"You can add a little bit of creativity to your everyday with Leigh Medeiros' The 1-Minute Writer … no matter how busy your day is. Whether you are someone who loves to write, or are just looking for a new way to grow creatively, this is the perfect addition to your collection. The prompts throughout are inventive, and each of the themes will push you to create something that might fall outside of your comfort zone."
— The Nerdy Girl Express
Adams Media, 9781507209288, 240pp.
Publication Date: January 1, 2019
About the Author
Leigh Medeiros is an award-winning artist, writer, coach, and story development editor. She supports artists of all kinds through her coaching and story development work as well as through her online program 48 Days of Creative Devotion. Leigh lives with her husband and blind rescue dog in a wee beach house on the shores of Narragansett Bay.