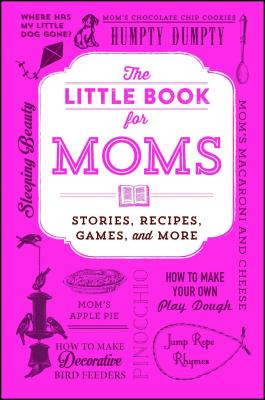 The Little Book for Moms (Paperback)
Stories, Recipes, Games, and More
Adams Media, 9781507210024, 192pp.
Publication Date: November 17, 2018
Other Editions of This Title:
Hardcover (3/6/2015)
* Individual store prices may vary.
Description
Even though they're busier than ever before, moms still love taking the time to share family traditions with their little ones. The Little Book for Moms will encourage readers to pass their favorite tales, crafts, games, and recipes onto the next generation. From Goldilocks and the Three Bears to Margarine Tub Jellyfish to Marshmallow Squares, each page will help moms create heartwarming memories of their own. A collection that they'll turn to time and time again, The Little Book for Moms will keep Mom--and the rest of the family--smiling all day long.
About the Author
Adams Media provides helpful, funny, and inspiring books on a wide variety of topics, so no matter who you are, we've got you covered. Our editors are just like you—living, loving, and learning every day. Our personal experiences and expertise in our given book categories allow us to bring you some of the best content on the market—from parenting to relationships, to the paranormal, cooking, and humor—we cover what you care about.