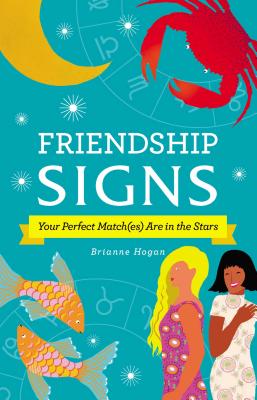 Friendship Signs
Your Perfect Match(es) Are in the Stars
Hardcover

* Individual store prices may vary.
Description
Astrology isn't just for romance anymore! Let your sign lead the way to find true friendship with this enlightening guide to the stars.

Think astrology is only for romantic relationships? Think again! With this guide, you'll learn which sign is the perfect friendship match for you! Learn why bold Leo and adventurous Sagittarius make such a good match. Discover how your grounded Capricorn best friend can support your practical Taurus nature. Introduce dreamy Pisces to nurturing Cancers for a caring, supportive friendship. You'll also learn how to: find the best (and avoid the worst) sun-sign friend matches, predict your friend's likes and dislikes, and be best friend material to any sign!

Featuring in-depth quizzes and details about various friendship characteristics and compatibility of each sign, this entertaining guide will help you cultivate a truly cosmic friend group!
Praise For Friendship Signs: Your Perfect Match(es) Are in the Stars…
"Offer[s] a unique insight into not only revealing what you already knew about your best friend, but also a look at opening doors and becoming more compatible with our celestial counterparts."
— Confessions of a Modern Witch
Adams Media, 9781507210222, 256pp.
Publication Date: May 14, 2019
About the Author
Brianne Hogan is a writer currently based in Prince Edward Island. Growing up, she filled her time with writing stories and visiting a local occult store, checking out books on astrology and preparing charts for her friends. Her adult life is pretty much the same. Her writing and horoscopes have appeared in HelloGiggles, Awesomeness TV, Astrology.com, and Horoscopes.com. As a Capricorn, she's faithfully loyal yet stubborn and never misses a birthday. You can find Brianne at BrianneHogan.ca.