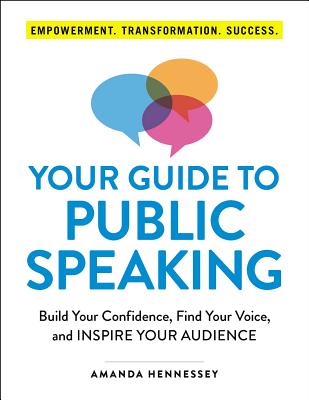 Your Guide to Public Speaking
Build Your Confidence, Find Your Voice, and Inspire Your Audience
Paperback

* Individual store prices may vary.
Other Editions of This Title:
Compact Disc (5/14/2019)
Description
Are you part of the 73% of the population that experiences anxiety from public speaking? Face your fears with this valuable guide that combines real-world case studies and practice activities to help build your confidence.

You may not be afraid of heights or spiders but making a speech in front of a large crowd—whether it's a wedding party, an awards ceremony, or even doing a presentation in the office—is sure to get your heart pounding and your palms sweaty. But with Your Guide to Public Speaking in hand, there's no need to fear public speaking a second longer.

This practical and indispensable guide teaches you to understand and work with your audience, take control of your own emotions, and create the perfect materials to supplement your speech and help drive your message home. With practice activities, real-world case studies, tips you never thought you needed—and more!—you'll find everything you need to become a speech master in no time at all.

From preparing for a video conference, rallying for support for a cause that's important to you, or facing down multiple interviews, you can banish those fears and feel empowered no matter what the situation with Your Guide to Public Speaking.
Praise For Your Guide to Public Speaking: Build Your Confidence, Find Your Voice, and Inspire Your Audience…
"Your Guide to Public Speaking is a user-friendly book that introduces the core principles of public speaking in a way that anyone can pick up and implement. Drawing from real-world experience as a seasoned public speaking coach and actress, Amanda Hennessey does a superb job breaking down the art of good public speaking—which to many can be seen as a daunting, multifaceted, and complex topic—into actionable steps packaged in a practical, witty guide. Inspiring!"
— Christie Lindor, TEDx speaker and author of the award-winning bestseller The MECE Muse: 100+ Selected Practices, Unwritten Rules, and Habits of Great Consultants

"This book is nurturing, witty, and profoundly insightful. Amanda is that rare coach who offers a one-two punch—she is as smart as they come and writes straight from the heart. Her insider tips are not just essential to strong public speaking but to professional success!"
— Alexandra Sullivan, cofounder of 44 Communications

"Amanda approaches the art of speaking from a very unique and refreshing perspective—the deep root of why we speak and who we are as speakers. By focusing on our mission as speakers, on why we want to give the speech and the impact we will deliver to the audience, Amanda helps readers embrace speaking with love as the motivation. In her direct—yet fun and personable—style, Amanda guides readers to access their inner strengths and deeper selves, which enables them to bring more emotion and power to their delivery. This book offers a lot of fun and practical exercises that are refreshing and effective—no matter if you are just starting out or looking to reach higher goals in speaking."
— Lei Wang; author, motivational speaker, and first Asian American to complete the Explorers Grand Slam (http://JourneywithLei.com)

"Amanda is an authority on public speaking, and one of the most talented coaches I've met. It is mind-blowing to see how she makes public speaking—America's biggest phobia—not only much simpler but also a true source of self-empowerment for anyone. In this book, you will learn highly effective, easy-to-remember techniques that will help you become an authentic and confident public speaker. A must-read for those who want to have a bigger impact by empowering themselves and others."
— Will G. Foussier; CEO and founder of Ace-up, Inc.

"Your Guide to Public Speaking is a practical resource for new and experienced presenters alike. Amanda Hennessey walks the reader through every detail—from what to talk about, to how to harness nervous energy, to what to do with your hands during the presentation. The fundamental shift of focus from the presenter to the audience is the real game-changer. It reminded me that presentations are really all about making a connection with the people in the room."
— Maura Herson, assistant dean of MIT Sloan School MBA Program

"I am so happy the world finally gets to share in Amanda's extremely practical, user-friendly, and unique approach to preparing for public speaking. She has a true gift of understanding people and helping them open up and find their authentic selves, and she conveys this in a kind and supportive manner. As a dog trainer who teaches group classes and has periodic media appearances and interviews, I refer to this manual as an invaluable reminder to stay focused and on track with my training message. It's a must-have book for all!"
— Kate Perry of Kate Perry Dog Training, named New York's Best Dog Trainer by New York magazine

"Like a great play, a great speech is based in storytelling. Amanda's background in the theater endows this book with personal and emotional insights that move it beyond an old-fashioned public speaking text into a fresh, creative approach for our technology-driven time. She offers clear, easy-to-use techniques to empower the speaker and awaken passion, authenticity, and the value of being 'fully present.' All of this good advice is presented with a sensitivity to the natural fears and perceptual obstacles that even the best speakers confront. By directly addressing the physical, vocal, and mental dimensions of public speaking, she provides a detailed, practical, and inspirational guide that is sure to transform your presentation and engage your audience—while also awakening your best self."
— Scott Edmiston, Elliot Norton Award–winning theater director, professor of the practice, Northeastern University

"Much like that favorite teacher from childhood who seemed to have only one objective in mind—to unconditionally share everything she knows with you—Amanda Hennessey shares her knowledge about public speaking gained over the years. Your Guide to Public Speaking enables us to prepare ourselves mentally, emotionally, and content-wise, and provides us with an actual process of conveying that content to an audience in a format that is impactful. By being passionate, confident, and prepared, you will be able to take your audience on a journey where it learns deeply about something you know and care about."
— Imac Maria Zambrana, associate professor, faculty of educational sciences, University of Oslo
Adams Media, 9781507210246, 240pp.
Publication Date: May 14, 2019
About the Author
Amanda Hennessey is the founder of Boston Public Speaking, where her innovative strategies give people confidence and charisma through finding their own unique voice. For over a decade, she has empowered individuals, including CEOs, scientists, students, executives, entrepreneurs, activists, chefs, doctors, and even a top dog trainer, to shift from fearful to fierce. Currently, Amanda leads public speaking workshops across the country, working with individuals and organizations, including Boston Children's Hospital, MIT, Simmons School of Social Work, and Petco. She taught acting at Boston University's Department of Film and Television and at New York Film Academy. Amanda received her MFA at the Actors Studio Drama School and went on to act in films, plays, and commercials. She is a cofounder of Boston Acting Classes, where she teaches with her husband, Art Hennessey. She can be reached through BostonPublicSpeaking.com or SanDiegoPublicSpeaking.com.