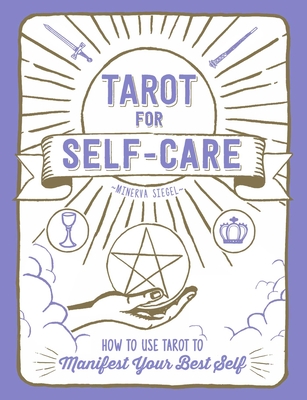 Tarot for Self-Care
How to Use Tarot to Manifest Your Best Self
Hardcover

* Individual store prices may vary.
Description
Discover simple techniques for incorporating the wisdom of tarot into your daily self-care routine with this approachable guide

Self-care is an important daily ritual to everyone's lifestyle. But it is about more than simply pampering yourself in a bubble bath or getting a manicure. It's about connecting and understanding your true self. That's where the magic of tarot comes in—it puts you in touch with your hidden fears and secret hopes, weaknesses and strengths. These revealing cards do more than simply predict the future. They offer essential, insightful messages from your subconscious, showing a new perspective on how to achieve personal growth.

Tarot for Self-Care uncovers how to make the most out of your daily tarot practice with mindful readings, pre-reading rituals, daily one-card check-ins, practices to explore your intuition, and more. You can think problems over by laying out a spread, ask the cards yes or no questions, or explore your intuitive skills. It will definitely be worth adding these techniques to your tarot self-care toolbox.
Praise For Tarot for Self-Care: How to Use Tarot to Manifest Your Best Self…
"[use] the wisdom of readings and rituals to connect and learn more about yourself."

—The/Thirty

"Consider this your crash course to the divination arts."

—The Daily Dot

"A great resource both for those who want to learn more about tarot reading and those who need a few pointers to get them to practice better self-care. It's full of great information without being too dense or vague, and it can actually help its readers live happier, healthier lives."

—Sweety High



"A holistic look at how tarot can support you, body and mind."

—THE/THIRTY

"Provides the reader with a way to delve into their own psyche and find within themselves the path to a higher existence through positive affirmations, meditations and dedicated self-care."

—Confessions of a Modern Witch

"Whether you are brand new to tarot or an old hand, this book offers some new perspectives and ways to bring tarot into daily life in a meaningful and positive way."

—New Spirit Journal

"A fun way for self-care enthusiasts to enliven their routines."

—Essence
Adams Media, 9781507210970, 256pp.
Publication Date: October 15, 2019
About the Author
Minerva Siegel is a writer, social media influencer, and model. A Sagittarius with a Capricorn moon, she has a deep passion for practicing secular witchcraft, which she considers an essential part of her self-care routine. Over the years, she's cultivated her practices in the divination arts, such as tarot, reading tea leaves, and astrology, through a transformative and modern lens, while retaining respect and reverence for tradition. She has contributed to the publications Offbeat Home and Offbeat Bride, and currently writes for Elite Daily. Minerva is active with her 64k followers on Instagram, and lives in Milwaukee, Wisconsin, with her husband and their rescue dogs. She is the author of Tarot for Self-Care.