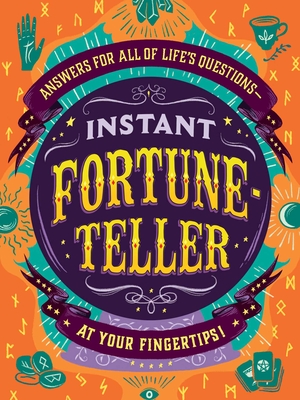 Instant Fortune-Teller (Hardcover)
Answers for All of Life's Questions—at Your Fingertips!
Adams Media, 9781507212165, 224pp.
Publication Date: December 17, 2019
* Individual store prices may vary.
Description
Find the answers to your burning questions now without the time-consuming tea brewing or palm reading—just call on the universe and flip to a page to find exactly what you're looking for!

Frustrated with tarot cards? Sick of drinking tea? Then Instant Fortune-Teller provides exactly what you need: a collection of carefully divined fortunes and predictions, laid out by the universe to lead you directly to your answer. Simply set your intention, call on the universe, and open to your message—no shuffling, star gazing, or pendulums needed!

Some of the messages you may find include:
"Optimism and boundless energy fill your interactions today."
"You're feeling flirty and conversational, but ultimately you're just having fun, not looking for anything serious."
"Use your powers of flexibility and freedom to drive your future."

No matter where you are or what your schedule is like, you can find the instant answers that will help you make decisions about your future without wasting a single moment!
About the Author
Adams Media provides helpful, funny, and inspiring books on a wide variety of topics, so no matter who you are, we've got you covered. Our editors are just like you—living, loving, and learning every day. Our personal experiences and expertise in our given book categories allow us to bring you some of the best content on the market—from parenting to relationships, to the paranormal, cooking, and humor—we cover what you care about.
Praise For Instant Fortune-Teller: Answers for All of Life's Questions—at Your Fingertips!…
"May be the most user-friendly divination book ever written."

—Patheos

"A fun, attractive, and portable bit of fun."

—The Magical Buffet