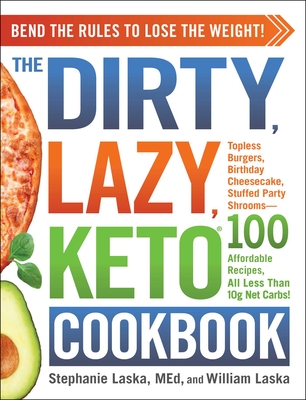 The DIRTY, LAZY, KETO Cookbook (Paperback)
Bend the Rules to Lose the Weight!
Adams Media, 9781507212301, 224pp.
Publication Date: January 7, 2020
* Individual store prices may vary.
Description
USA TODAY BESTSELLER

As seen on the Today show

After losing 140 pounds, bestselling author Stephanie Laska shares her unconventional weight loss secrets and 100 easy, accessible recipes so you too can experience the fun behind the keto lifestyle with lots of humor and zero judgement.

You don't have to be perfect to be successful at weight loss—now you can bend the rules and still lose the weight. If your version of the keto diet includes a Diet Coke, low-carb beer, or the occasional chocolate-covered protein bar, The DIRTY, LAZY, KETO Cookbook is your roadmap for results. Bestselling author Stephanie Laska explains her flexible, honest, and real-world approach to losing weight with the keto diet and inspires you to cook your way to weight loss, maintenance, and beyond whether you're a beginner or experienced keto veteran.

Including 100 recipes that are under 10 net carbs per serving, The DIRTY, LAZY, KETO Cookbook presents affordable, traditional, and most importantly recognizable recipes to guide you on your weight loss journey. All of the ingredients can be found at discount grocery stores—nothing fancy here! Within these relatable and unique recipes there are meals for picky eaters, fancier meals for guests, and some that are vegetarian "ish" (don't contain meat, but may contain dairy or eggs). And with simple, stress-free instructions that require no cooking experience, there's no excuse not to cook.

The DIRTY, LAZY, KETO Cookbook empowers you to keto your own way. The recipes in this judgement-free cookbook support you on your unique path to realistic and sustainable weight loss, not perfection.
About the Author
Stephanie Laska doesn't just talk the talk; she walks the walk. She is one of the few keto authors that has successfully lost half of her body weight (140 pounds!) and maintained that weight loss for seven years and counting. Her honest sass and fresh approach to the keto diet break the traditional rules of "dieting." You might have caught her cooking debut with Al Roker on NBC's the Today show? Her story and image have been celebrated in articles by FOX News, New York Post, Reader's Digest, Yahoo News, First for Women Magazine, Muscle and Fitness: Hers, Keto for You, RunDisney, and Costco Connection Magazine. She has run a dozen marathons, most notably the New York City Marathon as a sponsored athlete from PowerBar. Not bad for a girl who ran her first mile (as in ever!) close to age forty.
Praise For The DIRTY, LAZY, KETO Cookbook: Bend the Rules to Lose the Weight!…
"Stephanie Laska's results speak for themselves. If you're ready to 'go keto' but need help along the way (and who doesn't), this book is your go-to guide."

—Chris Guillebeau, New York Times bestselling author of Side Hustle and The $100 Startup

"As a board-certified obesity medicine specialist, I endeavor to keep my finger on the pulse of current dietary and weight loss trends.…Stephanie GETS IT! It is obvious to me that she has done her homework.…She has forged for herself better health and a better life and is providing tools for others to do the same."

—Michael W. Jones, DO, MBA, FAAFP, medical bariatrician

"By writing The DIRTY, LAZY, KETO Cookbook, Stephanie and William Laska created a gem. Keto dieters rejoice! No more confusing information and no more guessing games. Expect to have fun and lose weight with this book."

—Nordine Zouareg, international fitness & wellness expert, former Mr. Universe, and author of InnerFitness: 5 Steps to Eliminating Inner Conflict and Creating Inner Peace

"Stephanie and William Laska have written a cookbook that you will find yourself using every day and is sure to be a godsend in helping you succeed on a low-carb lifestyle.…The recipes taste terrific and are simple to make. They also recognize that some of us have different needs by providing an easy-to-use categorization system that identifies things like budget-friendly or high-volume dishes. Where has this cookbook been all my life?"

—Dr. Tamara Sniezek, professor of sociology and cohost of the DIRTY, LAZY, Girl podcast

"Don't cheat yourself, treat yourself to something delicious and nutritious in this amazing cookbook that can also aid in losing weight."

—Black Ruby Magazine

"This homey collection has plenty of accessible, tasty dishes."

—Publishers Weekly

"For all its popularity and success, the keto diet is a major commitment and can be difficult to sustain. But, do it a little dirty. Do it a little lazy. Do it Stephanie's way and you just may reach your weight loss goals more easily than anticipated."

—EverBeautiful



"Detailed instructions and recipes for you to kinda-sorta follow the keto diet but still live your life and enjoy the foods you love—all while making weight loss a very real possibility."

—Women's Health