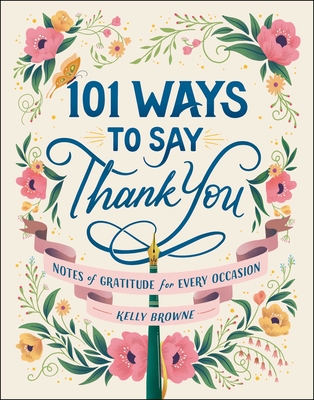 101 Ways to Say Thank You
Notes of Gratitude for Every Occasion
Hardcover

* Individual store prices may vary.
Description
Express your gratitude in writing for any occasion with this updated guide to saying thank you!

Writing a thank you note isn't just about good manners. Whether written in ink form on formal stationery or delivered digitally, a well-crafted thank you note makes the recipient feel appreciated—a sensation that makes you both feel good! This practice can improve your personal, social, and business relationships, leading to success and well-being in all aspects of your life.

In 101 Ways to Say Thank You, etiquette expert Kelly Browne shows you how to express gratitude eloquently and sincerely in every situation, using both traditional and up-to-the-minute digital methods, in an easy-to-follow, engaging, and down-to-earth way. Never be at a loss for words again!
Praise For 101 Ways to Say Thank You: Notes of Gratitude for Every Occasion…
"Browne's inclusive guidelines will encourage you to pick up your pen and express yourself in ways that messages delivered via telephone or email simply can't convey."

—Dorothea Johnson, author, etiquette expert, and founder of The Protocol School of Washington®

"When saying thanks, the first step is to get the person's name absolutely perfect. Mr. or Dr.? Mrs., Ms., Miss, or Mx.? A unique spelling of the name? When we are correctly addressed, we feel recognized. Kelly Browne's book will guide you to perfect expressions of gratitude—and happy recipients."

—Robert Hickey, author of Honor & Respect: The Official Guide to Names, Titles, & Forms of Address

"101 Ways to Say Thank You provides the tools everyone must know to elevate their personal expressions of gratitude, where acknowledgments of kindness, compassion, and respect are key. Kelly makes it easier than ever to show appreciation to build—and keep—relationships."

—Pamela Eyring, president and owner of The Protocol School of Washington®

"101 Ways to Say Thank You transforms the classic thank-you note to a level of unparalleled class and personal style. Harness the power of gratitude in your life by writing the ultimate thank-you—it's the secret weapon to your success!"

—Debra Lassiter and April McLean, "The Etiquette Girls," of Perfectly Polished: The Etiquette School and the Etiquette & Leadership Institute
Adams Media, 9781507218013, 160pp.
Publication Date: March 29, 2022
About the Author
Kelly Browne is the go-to gratitude expert on thank-you note etiquette for adults and kids. She lives in Los Angeles, maintaining a popular website and blog, and uses social media to promote the "magic of gratitude." Her advice has appeared in Parade, The Wall Street Journal, eHow, Tinyprints, and Jezebel—among many others—along with TV and podcast appearances.