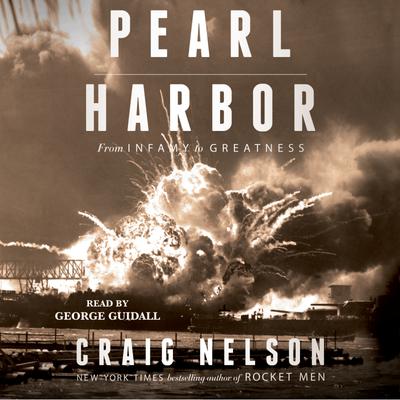 Pearl Harbor (Digital Audiobook)
From Infamy to Greatness
Publication Date: September 19, 2016
Other Editions of This Title:
Paperback (8/1/2017)
Hardcover (9/20/2016)
Description
"A valuable reexamination" (Booklist, starred review) of the event that changed twentieth-century America—Pearl Harbor—based on years of research and new information uncovered by a New York Times bestselling author.

The America we live in today was born, not on July 4, 1776, but on December 7, 1941, when an armada of 354 Japanese warplanes supported by aircraft carriers, destroyers, and midget submarines suddenly and savagely attacked the United States, killing 2,403 men—and forced America's entry into World War II. Pearl Harbor: From Infamy to Greatness follows the sailors, soldiers, pilots, diplomats, admirals, generals, emperor, and president as they engineer, fight, and react to this stunningly dramatic moment in world history.

Beginning in 1914, bestselling author Craig Nelson maps the road to war, when Franklin D. Roosevelt, then the Assistant Secretary of the Navy, attended the laying of the keel of the USS Arizona at the Brooklyn Navy Yard. Writing with vivid intimacy, Nelson traces Japan's leaders as they lurch into ultranationalist fascism, which culminates in their scheme to terrify America with one of the boldest attacks ever waged. Within seconds, the country would never be the same.

Backed by a research team's five years of work, as well as Nelson's thorough re-examination of the original evidence assembled by federal investigators, this page-turning and definitive work "weaves archival research, interviews, and personal experiences from both sides into a blow-by-blow narrative of destruction liberally sprinkled with individual heroism, bizarre escapes, and equally bizarre tragedies" (Kirkus Reviews). Nelson delivers all the terror, chaos, violence, tragedy, and heroism of the attack in stunning detail, and offers surprising conclusions about the tragedy's unforeseen and resonant consequences that linger even today.